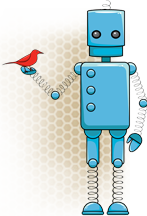 About SciStarter
SciStarter is the place to find, join, and contribute to science through recreational activities and citizen science research projects. Our database of citizen science projects enable discovery, organization, and greater participation in citizen science. Learn more about citizen science and check out these Ten Principles of Citizen Science.
With support from the National Science Foundation, Arizona State University's Center for Engagement and Training in Science and Society and SciStarter is creating SciStarter 2.0 (coming soon):
An identity management system and open integrated registration for participants to more easily engage in multiple citizen science projects, even across platforms and disciplines
GIS implementation so would-be participants can find opportunities near them
Ability for participants to track their projects, participation, and contributions to science
Participants can create privacy-protected profiles and find people and projects of interest to them
If you are a scientist or a representative of a citizen science organization or community: SciStarter is the organization and community to tell eager people about your work and get them interested in helping out. Make sure your project is listed and up to date so we can help you. We share the database with anyone interested through media partnerships and open APIs with PBS Kids, Discover Magazine and others. In November 2015, thanks to support from the Simons Foundation, SciStarter will offer links to codes anyone can copy to share a customizable version of the database on their own sties.
If you do not represent a project, but have a favorite citizen science you'd like to see added to the SciStarter Project Finder, consider inviting someone from the project to add the project or drop a tip about the project, via tweet or email.
Our Mission
SciStarter will bring together the millions of citizen scientists in the world; the thousands of potential projects offered by researchers, organizations, and companies; and the resources, products, and services that enable citizens to pursue and enjoy these activities. We aim to:
Enable and encourage people to learn about, participate in, and contribute to science through both informal recreational activities and formal research efforts.
Inspire greater appreciation and promote a better understanding of science and technology among the general public.
Create a shared space where scientists can talk with citizens interested in working on or learning about their research projects.
Satisfy the popular urge to tinker, build, and explore by making it simple and fun for people—singles, parents, grandparents, kids—to jump in and get their hands dirty with science.
Our Team
Darlene Cavalier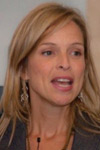 Founder
darlene@scistarter.com
Darlene is also the founder of Science Cheerleader a popular website and organization that works with 250 current and former NFL and NBA cheerleaders pursuing science and technology careers to promote science and the involvement of citizens in science and science-related policy. She has held executive positions at Walt Disney Publishing and has worked at Discover magazine for 15 years, where she now is a senior adviser and writer. She has created national science awards programs, science education initiatives, and a series of science-themed roundtable discussions for, among others, the Disney Institute, Space.com, Sally Ride's Imaginary Lines, and the Franklin Institute. She also serves on the Steering Committee for Science Debate and is a founding partner of Expert and Citizen Assessment of Science and Technology and blog, which engages experts, stakeholders, and everyday citizens in assessing the implications of emerging developments in science and technology. She originated and managed the Emmy award-winning Science of NFL Football series produced by the NFL, NBC Sports, NBC Learn, the National Science Foundation and Science Cheerleader.
A former Philadelphia 76ers cheerleader, Darlene does not regret the years she gabbed through high school science classes. She earned a Master's degree at the University of Pennsylvania, studying science history, sociology, and science policy to learn more about people like herself: "hybrid actors," citizens interested in but not formally trained in the sciences. Discovering it was remarkably difficult to find opportunities to participate in science in any meaningful way, she launched SciStarter. Darlene lives in Philadelphia with her husband and four children, who have made it a hobby to explore the rainforests of Costa Rica. She's also a Professor of Practice at Arizona State University's Consortium of Science, Policy, and Outcomes.

Cavalier is the proud recipient of a Shuttleworth Foundation Flash Grant to support "people with brilliant ideas" and she is investing that grant in the development of a series of media partnerships to help bring more citizen science opportunities to more communities.
Arvind Suresh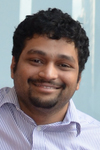 Managing Editor
arvind@scistarter.com
Arvind Suresh is a science communicator and former laboratory biologist. He graduated with his MS in Cell Biology and Molecular Physiology from the University of Pittsburgh. He is also an information addict, gobbling up everything he can find on and off the internet. He enjoys reading, teaching, talking and writing science, and following that interest led him to SciStarter. Outside the lab and the classroom, he can be found behind the viewfinder of his camera.
Carolyn Graybeal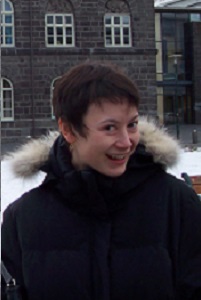 Newsletter Editor and Co-ordinator, Contributor
carolyn@scistarter.com
Dr. Carolyn Graybeal holds a PhD in neuroscience from Brown University. She is a former National Academies of Science Christine Mirzayan Science & Technology Policy Fellow during which time she worked with the Marian Koshland Science Museum. In addition the intricacies of the human brain, she is interested in the influence of education and mass media in society's understanding of science.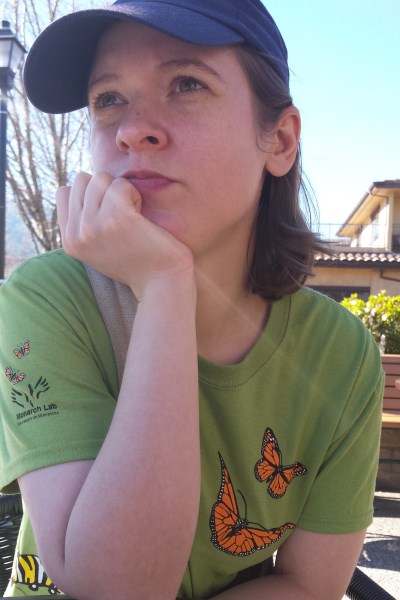 Eva Lewandowski
Newsletter Editor and Co-ordinator
eva@scistarter.com
Eva Lewandowski is a PhD candidate in the Conservation Biology Graduate Program at the University of Minnesota. She is part of the Monarch Lab, where she studies citizen science and conservation education. In her free time, she volunteers with environmental education and wildlife rehabilitation.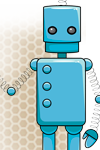 Catherine Hoffman
Social Media Manager
catherine@scistarter.com
Catherine Hoffman is science education enthusiast who sees citizen science as a way to engage people in the process of real science. She has contributed to a variety of science outreach endeavors in museums, classrooms, and aquariums as both an educator and program coordinator. She holds a Masters of Science from the University of British Columbia where she became passionate about connecting researchers with educators and students. You'll find Catherine's mark on SciStarter at our Twitter and Facebook pages where she helps promote projects, newsletters, and blogs. When she's not tweeting, you can most likely find her at the beach in sunny Southern California.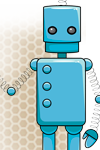 Jill Nugent
Social Media Manager
Jill Nugent works in higher education and is a Ph.D. candidate at Texas Tech University investigating locally engaged, globally connected citizen science. Her B.S. degree is from Texas A&M University and her M.S. degree is in biological sciences where she studied canid behavior and conservation. TwitteR: @ntxscied
Jenna Morgan Lang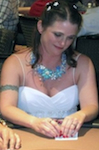 Editor, Featured Projects and Newsletter
Jenna@scistarter.com
Dr. Jenna Lang spends her days exploring the various means by which microbes rule the world. She has worked with Jonathan Eisen since 2006, first as an employee of the DOE Joint Genome Institute, then as a Microbiology PhD student, and now as a permanent fixture in his lab at UC Davis. Jenna became hooked on Citizen Science while working with Darlene on Project MERCCURI, and now aims to include a citizen science component in all future research projects. For fun, she likes to play poker, at the Bellagio, in her wedding dress.
Caren Cooper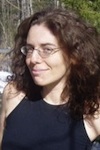 Director of Research Partnerships
Caren@scistarter.com
Dr. Caren Cooper is also a blogger for Scientific American and the Public Library of Science. She is a research associate at the Cornell Laboratory of Ornithology and Senior Fellow in the Environmental Leadership Program. She is co-chair of the publications committee of the newly forming Association for Citizen Science and co-editor of an upcoming special feature on citizen science in the open-access journal Ecology & Society. She has authored over 35 scientific papers, co-developed software to automate metrics of incubation rhythms, and is co-creator of NestWatch, CamClickr, Celebrate Urban Birds, YardMap, and the House Sparrow Project. Follow her @CoopSciScoop. She likes to propel herself on one wheel, two wheel, and eight wheel devices.
Steve Gano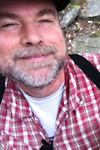 New Product Developer
Steve@scistarter.com
Steve has been trying to make computers do interesting, beautiful, useful things that help people learn since the days of punched cards. Most recently that was at the American Museum of Natural History where his technical and user interface designs for the museum's websites won many awards. There, Steve developed new ideas for citizen science projects like the Urban Biodiversity Network, sponsored by the MacArthur Foundation, which produced a mobile app to help kids discover and document the biodiversity in their neighborhoods. He's very excited to be working with SciStarter to help innovate new ways to connect citizen scientists with rewarding projects, and better ways to manage their activities across projects. Back in the day, Steve was lucky to experience first­hand the heady days of the birth of the digital era as a researcher at MIT's Architecture Machine Group, Atari's Sunnyvale Research Lab, HP Labs, and the Apple Multimedia Lab, and still holds out some hopes that we'll learn how to make these digital tools truly enrich our lives.
Jonathan Brier


Strategic Advisor
brierjon@scistarter.com
Jonathan Brier is citizen science enthusiast from Michigan who enjoys working with Internet connected technologies a little too much. He holds a M.S. in Information and specialized in social computing from the University of Michigan School of Information and a B.S. in media and communication technologies from Michigan State University. His interest for science began with his continued use of the word "why" for which his father an engineer and mother a teacher took the time to give an explanation that would make any scientist proud. Jon's citizen science passion began with his discovery of the SETI@home distributed computing project after watching the movie Contact. This branched to all things citizen science as he learned of more ways science research could harness public participation. Outside his day job as an Assistant Researcher at the University of Michigan, he works with GridRepublic on BOINC powered distributed computing projects and scours the Internet for anything and everything related to citizen science. He brings added enthusiasm and information management expertise to SciStarter.
Jiannan Zhang


Developer, promoter and hackfest leader
jiannan@scistarter.com
Jiannan Zhang is a computer scientist who is keen in citizen science. When he was at CERN, he organized the CERN Webfest 2013, and helped prepare for a virtual LHC challenge. He is super interested in collaborative learning, tech startups, and philosophy of mind. Jiannan is now doing research on Computational Linguistics at Oxford University. But he's everywhere! Look for him at our Philly Hackfest and in Berlin at the Open Knowledge Festival
Mark Severance


Director of Space-based citizen science projects
Mark@scistarter.com
Mark Severance is SciStarter's Space Guy and he has been a Space Guy all of his life. A NASA engineer at the Johnson Space Center in Houston, Mark has spent most of his career in Mission Control Center-Houston as a Flight Controller for the Space Shuttle and International Space Station. He also spent time in Mission Control Center-Moscow as a NASA Operations Lead early in the ISS program and when NASA had Astronauts working onboard the Mir space station. He has had a life-long interest in spaceflight and views the space program as a catalyst for engaging minds of all ages in a deeper understanding of science, engineering, technology and mathematics. Mark holds BS degrees in Physics and Electrical Engineering from SMU and MS in Physical Science, with a concentration in Orbital Mechanics, from the University of Houston. He began his hands on interest in space as teenager through his radio tracking of Soviet and Chinese human and robotic spacecraft in conjunction with the Kettering Group. He credits his satellite tracking as the most directive force in his educational and professional careers. Mark is currently a NASA engineer and manger for a space communications lab at the Johnson Space Center. Previous to this assignment, he worked in NASA's Office of Education to start a program of educational activities and experiments onboard the ISS. He is heading up SciStarter's in-development suite of space-related, citizen science projects.
Our Contributors
Melinda T. Hough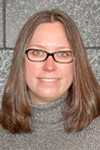 Contributor
melinda@scistarter.com
Dr. Melinda T. Hough is a freelance science advocate and communicator. Her previous work has included a Mirzayan Science and Technology Graduate Policy Fellowship at the National Academy of Sciences (2012), co-development of several of the final science policy questions with ScienceDebate.org (2012), consulting on the development of the Seattle Science Festival EXPO day (2012), contributing photographer for JF Derry's book "Darwin in Scotland" (2010) and outreach projects to numerous to count. Not content to stay stateside, Melinda received a B.S in Microbiology from the University of Washington (2001) before moving to Edinburgh, Scotland where she received a MSc (2002) and PhD (2008) from the University of Edinburgh trying to understand how antibiotics kill bacteria. Naturally curious, it is hard to tear Melinda away from science; but if you can, she might be found exploring, often behind the lens of her Nikon D80, training for two half-marathons, or plotting her next epic adventure.
Ashley Rose Kelly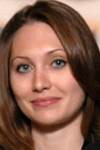 Contributor
Dr. Ashley Rose Kelly is an Assistant Professor at Purdue University in the Brian Lamb School of Communication (Fall 2014). Ashley studies how emerging technologies may be changing science communication. She holds an M.A. from the University of Waterloo and a Ph.D. from North Carolina State University. You can find Ashley on twitter as: @ashleyrkelly
Karen McDonald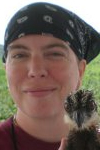 Contributor - Citizen Science in the Classroom Series
When not writing her blog The Infinite Spider, Karen McDonald is a guest blogger, curriculum developer, science content editor, and outdoor educator with over thirteen years in informal science education. She has an MS in Biology and a BS in Environmental Science and Philosophy. Currently she works for Smithsonian and contracts for Discovery Channel.
John Ohab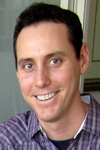 Contributor
john@scistarter.com
Dr. John Ohab is a digital communications strategist at the U.S. Naval Research Laboratory (NRL). Dr. Ohab provides policy and strategic communications guidance to NRL's senior leadership and is responsible for integrating emerging technologies into public outreach activities. Before joining NRL, Dr. Ohab was a new technology analyst at the Department of Defense (DOD), where he provided research and evaluation of web technology initiatives for the DOD Public Web Program. He also led the award-winning outreach project, "Armed with Science," a cross-agency effort to connect military scientists and engineers with the public using social media. In 2010, he was honored at the White House "Champions of Change" ceremony for his work on the Presidential Initiative, Data.gov. Dr. Ohab is committed to pursuing creative endeavors that connect the scientific community and the general public. He is a founding member of SciStarter, a startup company that enables everyday people to participate in real scientific research projects. He also wrote and acted in a teacher development video series produced by Sangari Active Science, an inquiry-based K-5 science program. Dr. Ohab was twice selected as a Science and Technology Policy Fellow with the American Association for the Advancement of Science, serving at the Office of the Secretary of Defense and the National Institute of Mental Health. He received his B.S. in Biopsychology from UC Santa Barbara and his Ph.D. in Neuroscience from UCLA.
Ian Vorster

Contributor
Ian Vorster has a MS in Environmental Communications and most recently served as director of communications at the Woods Hole Research Center in Massachusetts. Prior to that he worked in the health communications field. Ian has served as a designer, writer, photographer, editor and project leader in the field of science, and now works freelance in a blend of these roles. You can see more of Ian's work at dragonflyec.com.
Join Us
We're looking for volunteer contributors and interns! If you interested in science, Web publishing, and being part of an exciting, creative new venture, send a note describing your qualifications to info@scistarter.com.
---