Archive for the 'Climate & Weather' Category
By John Ohab April 5th, 2013 at 9:17 am | Comment
This post originally appeared on the PLOS Blog Network.
We're down to the Final Four in this year's NCAA tournament, and chances are your bracket isn't looking too good. Welcome to the club. Worry not! We've got four citizen science projects that will help you make the most of Final Four weekend.
MICHIGAN WOLVERINES fans…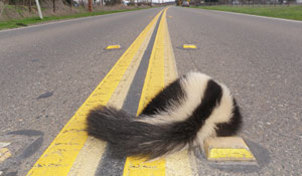 If your team gets pummeled this weekend, you'll make a great Roadkill Observer or Splatter Spotter. Roadkill Survey for Road Bikers need your help to find out where wildlife live and how they move in relation to roads. Project Splatter collects UK wildlife road casualty data via Twitter and Facebook. Both projects hope to identify roadkill 'hotspots' for future mitigation projects and help preserve wildlife.

SYRACUSE ORANGE fans…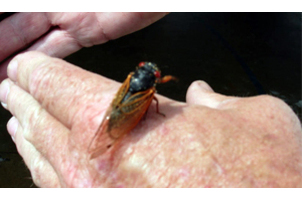 You're in the perfect spot to help track the cicadas that emerge once every 17 years across New Jersey, New York and the whole Northeast by planting a homemade temperature sensor in the ground and reporting your findings. Your observations will be put on a map and shared with the entire community. Everyone's a winner…unless your team loses, of course.

WICHITA ST. SHOCKERS fans…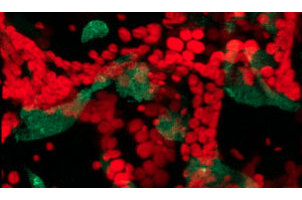 If you're too exhausted after the game to harvest wheat in nearby fields, you can still help plants by participating in Clumpy. Simply classify plant cell images by their "clumpiness", and you can provide researchers with new insights into the progression of bacterial infection in plant cells.

LOUISVILLE CARDINALS fans…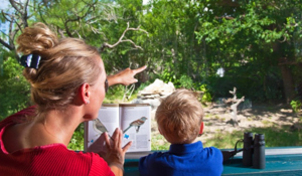 If your team doesn't live up to the hype, you can always hide your shame in New Hampshire and help scientists study a bird of a different feather. The Ashuelot Valley Environmental Observatory is coordinating volunteer nighthawk surveys on warm evenings in Keene. Submit your observations of booming, peenting, or nighthawks diving.

And for fans of teams that didn't make it this far…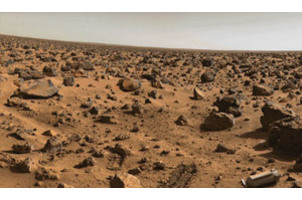 Check out Planet Four, a citizen science project in which volunteers help planetary scientists identify and measure features on the surface of Mars. By tracking 'fans' and 'blotches' on the Martian surface, you can help planetary scientists better understand Mars' climate.

By Darlene Cavalier January 20th, 2013 at 6:19 pm | Comment
This was originally published on Huffington Post, by George Zaidan.

SciStarter asked Craig Newmark (of Craigslist fame) why he likes squirrels. He told us that it all started with a simple desire to feed birds. But the suet palaces he was using to dispense the raw, fat-based bird food were constantly getting hacked by squirrels. He tried everything; he even upgraded to "squirrel-resistant" models, to no avail.
It was then that Newmark really began to appreciate the rascally rodents. "Squirrels are smart, tough and athletic, real survivors, and that's very impressive," he says. "They're a candidate to replace humanity if we don't work things out."
Newmark, who regularly tweets about squirrels and is a religious observer of National Squirrel Appreciation Day (Jan. 21), has his house wired with "squirrel cams" and was even able to capture — on video — a female entering his house to explore.
But most squirrel observation is low-tech, involving a pair of binoculars and a notebook. These observations eventually work their way into peer-reviewed science.
SciStarter.com, which I like to think of as the Craigslist of science, has a list of squirrel-related citizen science projects here. You can participate for free, and finding squirrels (especially the eastern grey) is about as easy as falling over. They dominate this area, and they're not shy!
Our citizen science projects are not limited to the East Coast, or even the U.S. There's the Black Squirrel Project in the UK and the Western Gray Squirrel Project out in the state of Washington.
If you think you're sly enough to outsmart squirrels, we have a limited-time competition just for you! In partnership with instructables and Discover Magazine, SciStarter is looking for safe and effective ways to keep squirrels and other ravenous vegetarians and omnivores from eating sunflowers. Why? Because sunflowers play a crucial role in citizen science bee observation projects. No sunflowers, no bees. And that would… bee bad. But hurry! Not only is January 21 National Squirrel Day, it's also the last day you can submit an entry to the Citizen Science Contest!
Some species of ground squirrels hibernate, but tree squirrels don't. The eastern grey and other tree dwellers ride out the winter in tree hollows and holes, but you can still see them as fall turns to winter. So sign up for a squirrel project here at SciStarter, grab your coat and head out to the nearest deciduous forest, rooftop or really just about anywhere, and start observing!
Or just hang a birdfeeder outside your window.
By Lily Bui October 29th, 2012 at 12:51 pm | Comment
With  Hurricane Sandy looming large, weather's the nation's top news story.  In case you're at home sitting out the storm like the bulk of the SciStarter team, we've got you covered (no pun intended) with plenty of weather-related citizen science opportunities to help researchers and advance science.
Bonus: here's a weather-appropriate, musical supplement to your citizen science project browsing below, an oldie-but-goodie from classic BBC.
Water Isotopes: Hurricane Sandy
While Sandy is currently moving across the east coast, it presents an opportunity for citizen scientists to help researchers at the University of Utah. Scientists studying the isotopic composition of rainwater and snow are enlisting the help of volunteers to develop an unprecedented spatial and temporal dataset documenting the isotopic composition of rainwater (and snow) associated with this major storm system. You can study the storm while it's happening (with safety in mind first, of course!) by collecting rain and/or snow samples and logging information in a spreadsheet that you can download on the WaterIsotopes.org website!
Old Weather: Our Weather's Past, the Climate's Future
This citizen science project allows you to help scientists recover Arctic and worldwide weather observations made by United States' ships since the mid-19th century. Browse through online archival data of ship logs from decades past, then help transcribe and digitize them so that researchers can access them more easily. These transcriptions will contribute to climate model projections and will improve our knowledge of past environmental conditions. Historians will use your work to track past ship movements and tell the stories of the people on board. This nascent nautical venture is only 4% complete, so there's plenty of work to be done!
The gorgeous, interactive website includes helpful tutorials on the transcription process and invites you to linger, browse, and imagine the history behind the documents you will be analyzing. Pick a vessel that suits your fancy, and dive into the vast sea of archives that come from it.
Beautiful videos like the one below illustrate the anthropological fingerprint and relevance in all the data:
Still craving more weather citizen science projects? Our SciStarter Project Finder is a library of hundreds of citizen science projects! Here are more of our favorite weather-related projects also featured on our home page today.
SkyWarn: During hazardous weather, SKYWARN volunteers report what is happening at their location. Reports arrive at the forecaster's office via the telephone, fax, Internet, and amateur radio. The reports are combined with radar and satellite data to determine what the storms will do next.
CoCoRaHS: Rain, Hail, Snow Network: Each time a rain, hail, or snow storm occurs, volunteers take measurements of precipitation from their registered locations (reports of 'zero' precipitation are encouraged too!). The reports are submitted to the website and are immediately available for viewing. The National Weather Service, meteorologists, hydrologists, emergency managers, city utilities, insurance adjusters, the U.S. Department of Agriculture, engineers, mosquito control, ranchers and farmers, outdoor and recreation interests, teachers, students, and neighbors in the community use the data.
SatCam: SatCam lets you capture observations of sky and ground conditions with a smart phone app at the same time that an Earth observation satellite is overhead. Observe the earth's weather from above.
RainLog: Live in Arizona? All of this week's excitement about the weather doesn't just have to be for east coasters. Join RainLog's network of over 1,000 volunteers that use backyard rain gauges to monitor precipitation across Arizona and in neighboring states. Data collected through this network will be used for a variety of applications, from watershed management activities to drought planning at local, county, and state levels.
SnowTweets: How much snow is on the ground where you are? Cryosphere researchers at the University of Waterloo want to know! The Snowtweets Project provides a way for people interested in snow measurements to quickly broadcast their own snow depth measurements to the web.
Students' Cloud Observations Online (S'COOL): a citizen science project in which volunteers make and report cloud observations from sites of their choosing, such as a field trip, vacation, or even a backyard. The project aims to collect data on cloud type, height, cover, and related conditions from all over the world. Observations are sent to NASA for comparison to similar information obtained from satellite.
Citizen Weather Observer Program: Are you a ham? The Citizen Weather Observer Program is a group of ham radio operators and other private citizens around the country who have volunteered the use of their weather data for education, research, and use by interested parties. There are currently over 8,000 registered members worldwide and over 500 different user organizations. Their weather data are used by the National Oceanic and Atmospheric Administration and distributed to user organizations.
Though it may be that these citizen science projects require more rain than shine for full effect, we're sure that they're likely to help brighten your day or, at the least, provide plenty of distractions from the gloomy news reports.
By Lily Bui October 1st, 2012 at 7:02 pm | Comment
We couldn't have asked for a better citizen science project to start off October, a month often associated with Halloween and all things spooky.
Introducing Bat Detective, a project that enlists citizen scientists to screen sound recordings of bats to classify their distinct calls. Bats are nocturnal, making them very difficult to spot with the naked eye, so a growing number of bat surveys are being done acoustically instead. Bat calls "leak" information into the environment each night through echolocation, which bats use to sonically navigate, socialize, and locate prey in the dark.
:
Citizen scientists from all over the world have already recorded about 3,000 hours of acoustic surveys. Bat Detective has split the surveys in 4-second snapshots, so there are actually millions of files to be sorted. With only a few scientists, it would be an incredibly tedious, perhaps even impossible task. However, with the help of citizen scientists like you, the job will get done much more quickly!
These classifications will be used to create a new algorithm to help researchers easily extract information from their sound recordings and more closely monitor threatened bat populations. Bats are an integral part of their local ecosystems, but one in every five species of bat will face extinction over the next 50 years.
"Bats carry out lots of 'ecosystem services' like pollination and seed dispersal," said Kate Jones, Professor of Ecology and Biodiversity at University College London and Zoological Society of London. "They also eat masses of insects. Losing bats means that all those services are degraded," added Jones, whose Bat Detective project was made possible through Zooniverse , a popular online citizen science platform.
"The idea of Bat Detective really caught the imagination of the Zooniverse team, and when we heard the bat calls we were sold," said Chris Lintott, director of Zooniverse. "The rapid sequence of calls that make up a feeding call, and which means the bat has found its prey, is once heard and never forgotten."
Bats are also incredibly vulnerable to climate change, since their hibernation and migration patterns depend largely on weather patterns, so the success or failure of their local populations often serve as a early warning sign of the failing health of the local ecosystem as a whole. Need we say more?
Be sure to sign up for this sonically exciting and scintillating citizen science scheme! While you're at it, check out our other bat-related citizen science projects in our Project Finder. You can help the Wisconsin Department of Natural Resources with acoustic bat monitoring or identify Indian flying fox bats with the South Asian Bat Monitoring Program.
Coming soon: a collection of Halloween-themed citizen science projects. Keep your eyes (and ears) peeled!
By Peter Madden September 10th, 2012 at 10:57 pm | Comment
It happens every year, and you're right: it's just not fair. After nearly three months of uninterrupted fun, gone are the barbeques, ball games and pool parties that dominated the summer schedule just as Labor Day signals the sudden arrival of the shorter, colder, and more structured days of the school year. But before you cast yourself into the depths of the autumn blues, rest assured that we are working hard to make this year's science lessons a little different and—especially if you like nature and the outdoors—a little more fun!
Below is our third annual "Back-to-School" list of projects recommended to get teachers and students thinking about how to incorporate citizen science in the classroom. Check out our previous installments (2011, 2010) for additional ideas.
Participate in Project BudBurst: The National Ecological Observatory Network invites student citizen scientists to submit their observations of the phenophases (leafing, flowering, fruit ripening) of local grasses, shrubs and trees. This data will be compiled and compared to historical figures to help scientists learn more about the responsiveness of specific plant species to climate change. Their teachers, meanwhile, might consider enrolling in the BudBurst Academy, an online course for K-12 educators providing all the necessary information for implementing Project Budburst and engaging in citizen science in your classroom.
Plan your own BioBlitz: Even (or perhaps especially) if you missed the 2012 BioBlitz co-hosted by the National Park Service and the National Geographic Society, consider planning your own in your own neighborhood or schoolyard. These biodiversity snapshots provide valuable data for analysis of local species and their habitats.
Count some bugs: Don't let those math skills go to waste! SciStarter features several opportunities to count stuff, particularly insects and other creepy crawlies. Just pick your favorite: dragonflies, butterflies, bumble bees, spiders, ants, and worms.
Heads up: So bugs aren't you're thing. No problem. How about some astronomy? You can grow tomatoes to assess the feasibility of long-term space travel; search for the compound that stores solar power and thus solves the world's energy crisis; craft a story about your favorite astronomical bodies; or help astronomers search for and identify new planets and stars!
Be a mapmaker: The U.S. Geological Survey is considering the restoration of The National Map Corps, its volunteer mapping initiative, launching a pilot program in the state of Colorado. Anyone with an Internet connection can update the national map, adding the important man-made structures throughout the community such as hospitals, fire stations, and schools. The USGS could expand the program into other areas in the future if its initial efforts are successful. Come on Colorado!
Photo: NationalService.gov
By Peter Madden August 29th, 2012 at 12:58 pm | Comment
makes landfall this morning
, testing the infrastructure improvements following Hurricane Katrina, our thoughts are with the people of New Orleans for their continued safety. For weeks, scientists around the country have been studying the storm, tracking his progress and predicting his direction.
With only a rain gauge
, you can help them better react to future storms by recording and sharing your on-the-ground measurements and observations with various
local watershed monitoring projects
and citizen science networks.
The Community Collaborative Rain, Hall and Snow Network (CoCoRaHS) collects precipitation data from volunteers across the country for inclusion in an interactive map used by the National Weather Service and the U.S. Department of Agriculture (among others) to monitor local weather trends. SKYWARN is a national network of volunteer weather spotters trained by local National Weather Service Forecast Office to recognize and report the signs of severe storms; these first-hand accounts of the storm's impact are as valuable to forecasters as hard data as they send out public statements, warnings, and advisories to concerned citizens. And for kids, the National Science Foundation funded Tracking Climate in Your Backyard, to engage youth in the collection of meaningful data.
Also, here are some important resources that help you stay safe by answering some important questions about how Hurricane Isaac is impacting your community. How fast is the nearest stream rising? How can I monitor the storm surge? How fast is the wind blowing? What's the situation offshore? What does Hurricane Isaac look like? Show it to me from space!
As Hurricane Isaac
By Peter Madden July 19th, 2012 at 8:07 am | Comment
If you see a landslide, a swirling mass of unmoored dirt and rock and debris tumbling downhill at speeds of several tens of meters per second, run away as fast as you can. If it doesn't bring you down, grab your computer and report it to the U.S. Geological Survey's Landslide Hazards Program through their recently launched Did You See It? website.
The USGS will use your information to build a crowd sourced, national landslide database, a valuable resource for both scientists and citizens. The data will not only help researchers identify the areas of the country where landslides are most prevalent and better understand the conditions that most often lead to their occurrence, but also serve as a way for people to learn about risks to their persons or property.
"In the United States, more people have a chance of experiencing a landslide than any other natural disaster," said Peter Lyttle, coordinator of the Landslide Hazards Program and a 36-year veteran of the USGS. "It's kind of a stealth hazard."
Thousands of landslides occur every year, claiming upwards of 25 lives and resulting in billions of dollars in damages and lost productivity, but unlike, say, earthquakes, there are relatively few scientists (perhaps 50, according to Lyttle) tracking and studying them in the United States. Lyttle hopes that Did You See It?, an homage to the enormously successful Did You Feel It? earthquake survey, will provide researchers with the vast amount of data his small staff could never collect on their own.
"The science is still in its very early days," said Lyttle. "We're still using a very broad brush."
Knowing the exact location and time of a landslide will help the USGS pinpoint the areas at risk when other hazards–heavy rainfall in the East, sweeping wildfires in the West–threaten to undermine the underground. The need for awareness grows with us, as our population swells and communities demand development into vulnerable hillside areas.
"We're putting ourselves at risk by expanding into these areas," said Lyttle. "It takes a lot of manpower to make predictions and give early warning. We're not capable of doing that for the whole country, so we want people to educate themselves if they're in danger and learn what they can do to protect their homes."
By Lisa Gardiner October 12th, 2011 at 1:33 pm | Comment
There should be more animated movies about citizen science, don't you think? Thankfully, the people at a weather-focused citizen science project called the Community Collaborative Rain, Hail and Snow Network (known by the funny acronym CoCoRaHS) have made this video! It tells the story of how the project started and explains how people all over the country are getting involved. Watch and find out how you can become a CoCoRaHS volunteer too!
By John Ohab September 13th, 2011 at 12:09 pm | Comment 1
As summer comes to a close, a young person's fancy may turn to fretting at the thought of being cooped up in a classroom. But for fans of science and nature—and by that we mean kids who like to watch clouds, hunt mushrooms, prowl around graveyards, and check out what gets squashed on the side of the road—fall need not signal the end of fun.
To keep young minds entertained as well as enlightened, we recommend the following 10 back-to-school projects for student citizen scientists. Teachers and parents, please note: Many of these programs provide materials around which you can build lessons. And there are lots more where these came from.  Visit our Project Finder for a full list of citizen science projects for primary and secondary school students.
World Water Monitoring Day: World Water Monitoring Day is an international program that encourages citizen volunteers to monitor their local water bodies. An easy-to-use test kit enables everyone from children to adults to sample local water bodies for basic water quality parameters: temperature, acidity (pH), clarity (turbidity), and dissolved oxygen. Though World Water Monitoring Day is officially celebrated on September 18, the monitoring window is extended to cover the period from March 22 (World Water Day) until December 31. Check out what one of our members said about the project.
School of Ants: Join North Carolina State University researchers in a citizen-scientist driven study of the ants that live in urban areas, particularly around homes and schools. Collection kits are available to anyone interested in participating. Teachers, students, parents, kids, junior-scientists, senior citizens and enthusiasts of all stripes are involved in collecting ants in schoolyards and backyards using a standardized protocol so that project coordinators can make detailed maps of the wildlife that lives just outside their doorsteps.
The Albedo Project: Wherever you are – anywhere in the world – on September 23th, contribute to science by taking a photo of a blank white piece of paper, outside in the sun, between 4:00 and 7:00 pm local time. Your photo will used to to help students measure how much of the sun's energy is reflected back from the Earth — our planet's "albedo." It's one way scientists can monitor how much energy – and heat – is being absorbed by our planet.
Students' Cloud Observations On-Line (S'COOL): Report your observations of clouds—their shapes, height, coverage, and related conditions—so that NASA scientists can compare them with data from weather satellites passing over your area. Tutorials and observing guides are available for students. For teachers, the program provides lesson plans, charts, and advice on related educational standards.
Physics Songs:  Physics Songs aims to be the world's premier website devoted to collecting and organizing all songs about physics. It is managed by Walter F. Smith, Professor of Physics at Haverford College. Songs about physics can help students to remember critical concepts and formulas, but perhaps more importantly they communicate the lesson that physics can be fun.
By Darlene Cavalier August 26th, 2011 at 7:15 pm | Comment
Scientists want you to record and share rain measurements and other on-the-ground observations in part to help pinpoint hurricane Irene's actions, determine her next steps, and better predict and react to future storms. In addition to your help recording on-the-ground rain precipitation, scientists rely on watershed volunteers to provide important clues about the effects of storm-water runoff, carbon cycles of waterways, etc. Here's a list of opportunities to get involved in local watershed monitoring efforts. To help scientists record on-the-ground rain measurements, you will need a high capacity rain gauge.
Don't have a rain gauge? Enter here to win a free one so you can join in next time! Through the Changing Planet series, a partnership with National Science Foundation, NBC Learn, and DISCOVER Magazine, we're offering up to 20 of these gauges to our members, free of charge ($25 value).
(Note: Safety first. Please heed all evacuation recommendations issued in your area. )