Archive for the 'Insects' Category
By John Ohab April 5th, 2013 at 9:17 am | Comment
This post originally appeared on the PLOS Blog Network.
We're down to the Final Four in this year's NCAA tournament, and chances are your bracket isn't looking too good. Welcome to the club. Worry not! We've got four citizen science projects that will help you make the most of Final Four weekend.
MICHIGAN WOLVERINES fans…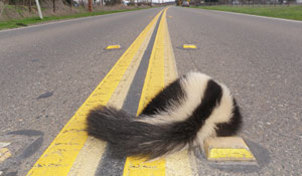 If your team gets pummeled this weekend, you'll make a great Roadkill Observer or Splatter Spotter. Roadkill Survey for Road Bikers need your help to find out where wildlife live and how they move in relation to roads. Project Splatter collects UK wildlife road casualty data via Twitter and Facebook. Both projects hope to identify roadkill 'hotspots' for future mitigation projects and help preserve wildlife.

SYRACUSE ORANGE fans…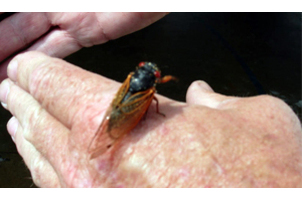 You're in the perfect spot to help track the cicadas that emerge once every 17 years across New Jersey, New York and the whole Northeast by planting a homemade temperature sensor in the ground and reporting your findings. Your observations will be put on a map and shared with the entire community. Everyone's a winner…unless your team loses, of course.

WICHITA ST. SHOCKERS fans…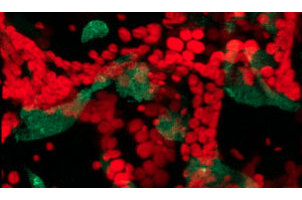 If you're too exhausted after the game to harvest wheat in nearby fields, you can still help plants by participating in Clumpy. Simply classify plant cell images by their "clumpiness", and you can provide researchers with new insights into the progression of bacterial infection in plant cells.

LOUISVILLE CARDINALS fans…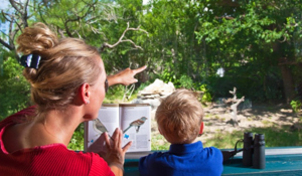 If your team doesn't live up to the hype, you can always hide your shame in New Hampshire and help scientists study a bird of a different feather. The Ashuelot Valley Environmental Observatory is coordinating volunteer nighthawk surveys on warm evenings in Keene. Submit your observations of booming, peenting, or nighthawks diving.

And for fans of teams that didn't make it this far…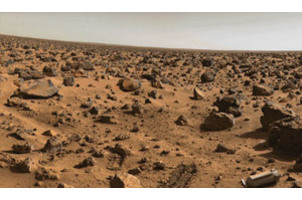 Check out Planet Four, a citizen science project in which volunteers help planetary scientists identify and measure features on the surface of Mars. By tracking 'fans' and 'blotches' on the Martian surface, you can help planetary scientists better understand Mars' climate.

By Lily Bui October 1st, 2012 at 7:02 pm | Comment
We couldn't have asked for a better citizen science project to start off October, a month often associated with Halloween and all things spooky.
Introducing Bat Detective, a project that enlists citizen scientists to screen sound recordings of bats to classify their distinct calls. Bats are nocturnal, making them very difficult to spot with the naked eye, so a growing number of bat surveys are being done acoustically instead. Bat calls "leak" information into the environment each night through echolocation, which bats use to sonically navigate, socialize, and locate prey in the dark.
:
Citizen scientists from all over the world have already recorded about 3,000 hours of acoustic surveys. Bat Detective has split the surveys in 4-second snapshots, so there are actually millions of files to be sorted. With only a few scientists, it would be an incredibly tedious, perhaps even impossible task. However, with the help of citizen scientists like you, the job will get done much more quickly!
These classifications will be used to create a new algorithm to help researchers easily extract information from their sound recordings and more closely monitor threatened bat populations. Bats are an integral part of their local ecosystems, but one in every five species of bat will face extinction over the next 50 years.
"Bats carry out lots of 'ecosystem services' like pollination and seed dispersal," said Kate Jones, Professor of Ecology and Biodiversity at University College London and Zoological Society of London. "They also eat masses of insects. Losing bats means that all those services are degraded," added Jones, whose Bat Detective project was made possible through Zooniverse , a popular online citizen science platform.
"The idea of Bat Detective really caught the imagination of the Zooniverse team, and when we heard the bat calls we were sold," said Chris Lintott, director of Zooniverse. "The rapid sequence of calls that make up a feeding call, and which means the bat has found its prey, is once heard and never forgotten."
Bats are also incredibly vulnerable to climate change, since their hibernation and migration patterns depend largely on weather patterns, so the success or failure of their local populations often serve as a early warning sign of the failing health of the local ecosystem as a whole. Need we say more?
Be sure to sign up for this sonically exciting and scintillating citizen science scheme! While you're at it, check out our other bat-related citizen science projects in our Project Finder. You can help the Wisconsin Department of Natural Resources with acoustic bat monitoring or identify Indian flying fox bats with the South Asian Bat Monitoring Program.
Coming soon: a collection of Halloween-themed citizen science projects. Keep your eyes (and ears) peeled!
By Peter Madden September 10th, 2012 at 10:57 pm | Comment
It happens every year, and you're right: it's just not fair. After nearly three months of uninterrupted fun, gone are the barbeques, ball games and pool parties that dominated the summer schedule just as Labor Day signals the sudden arrival of the shorter, colder, and more structured days of the school year. But before you cast yourself into the depths of the autumn blues, rest assured that we are working hard to make this year's science lessons a little different and—especially if you like nature and the outdoors—a little more fun!
Below is our third annual "Back-to-School" list of projects recommended to get teachers and students thinking about how to incorporate citizen science in the classroom. Check out our previous installments (2011, 2010) for additional ideas.
Participate in Project BudBurst: The National Ecological Observatory Network invites student citizen scientists to submit their observations of the phenophases (leafing, flowering, fruit ripening) of local grasses, shrubs and trees. This data will be compiled and compared to historical figures to help scientists learn more about the responsiveness of specific plant species to climate change. Their teachers, meanwhile, might consider enrolling in the BudBurst Academy, an online course for K-12 educators providing all the necessary information for implementing Project Budburst and engaging in citizen science in your classroom.
Plan your own BioBlitz: Even (or perhaps especially) if you missed the 2012 BioBlitz co-hosted by the National Park Service and the National Geographic Society, consider planning your own in your own neighborhood or schoolyard. These biodiversity snapshots provide valuable data for analysis of local species and their habitats.
Count some bugs: Don't let those math skills go to waste! SciStarter features several opportunities to count stuff, particularly insects and other creepy crawlies. Just pick your favorite: dragonflies, butterflies, bumble bees, spiders, ants, and worms.
Heads up: So bugs aren't you're thing. No problem. How about some astronomy? You can grow tomatoes to assess the feasibility of long-term space travel; search for the compound that stores solar power and thus solves the world's energy crisis; craft a story about your favorite astronomical bodies; or help astronomers search for and identify new planets and stars!
Be a mapmaker: The U.S. Geological Survey is considering the restoration of The National Map Corps, its volunteer mapping initiative, launching a pilot program in the state of Colorado. Anyone with an Internet connection can update the national map, adding the important man-made structures throughout the community such as hospitals, fire stations, and schools. The USGS could expand the program into other areas in the future if its initial efforts are successful. Come on Colorado!
Photo: NationalService.gov
By Peter Madden August 22nd, 2012 at 12:39 pm | Comment 1
Attention all backyard explorers and rosebush whackers: this is the opportunity you've been waiting for. Your days of leading patient parents on perilous neighborhood expeditions are over. Put down that "machete." Stop mushing the dog. Grab your merit badges. Adventure is calling!
This Friday, August 24, the National Park Service and the National Geographic Society will host their annual BioBlitz species count at Rocky Mountain National Park in Colorado. Hundreds of students and thousands of local citizens will join about 200 scientists, naturalists, and explorers from around the country to collect and analyze wildlife data, transforming the forest into a massive outdoor classroom alive with curiosity and discovery.
"I am always moved by the commitment of the National Parks Service to protecting our country's ecological diversity and sharing it with the general public," said Daniel Edelson, Vice President for Education at National Geographic. "The BioBlitzes are…explicit strategies for preparing young people to care for their world."
National Geographic has been "inspiring people to care about the planet" through its magazine since 1888, but it is relatively new to the business of "preparing" them to do so. With the rapid proliferation of digital media, the society saw an opportunity to provide teachers and students with the resources to learn (curricula, films, games) and the tools to take action through a more robust educational initiative, thus engaging with their audience in ways never thought possible. Can't make it to Colorado to catch bugs, spot birds, and count elk on Friday? You can take part in the action via their Google Hangout starting at 3 PM (EST), or even plan your own BioBlitz by following their instructions.
"It's exciting to see that other people are embracing the concept and using the resources we developed to conduct their own biodiversity research in their own parks in their own communities," said Sean O'Connor, a BioBlitz project manager.
This year's BioBlitz, the sixth in a series of ten leading up to the National Park Service's Centennial in 2016, comes amidst the strain of another round of federal budget cuts and continued lack of funding for the program. As the National Park Service prepares to face the challenges ahead—political, economic, environmental, or otherwise—National Geographic aims to show its next generation of stewards why its 397 parks encompassing ver 84 million acres of land are worth preserving.
"We believe [the most important lesson] we can teach young people is how interconnected our world is," said Edelson. "Even in our most pristine National Parks, you can't escape the impact of human activities on the natural environment. A BioBlitz is a chance for young people to see those impacts and learn about the connections between their own actions and the health of ecosystems."
By Nick Fordes July 18th, 2012 at 6:24 pm | Comment
Did you know that SciStarter has 14 projects that feature butterflies?
This is a product of the growing citizen science brigade, but also the fact that butterflies offer an accessible and fun way for people of all ages to engage in citizen science. Butterflies themselves are not only beautiful to look at, but they serve as excellent indicators of biological responses to the environment, which is why scientists need your help to count, monitor, and study them.
Summer is an especially great time to try out one of our butterfly projects, as it is breeding season for many species, including the iconic Monarch. Butterflies are everywhere and getting busy!
Because studying butterflies is such a good fit with citizen science, SciStarter features butterfly projects that range in difficulties, study locations, and levels of involvement. There is sure to be a project to fit your needs.
Whether you live in Canada, Illinois, Maine, Florida, or the UK, we have you covered. Our projects range from monitoring monarch butterfly larvae, to raising actual butterflies for long-term observation.
We also have several projects that involve simple observations of butterflies, and can be done anywhere in the nation!
Most recently, we added a project called The Big Butterfly Count. This project is going on right now and continues until August 5th. What makes the Big Butterfly Count unique is that it's a super easy project for people of all ages. The project requires just fifteen minutes of observation and even provides a printable identification poster!
All you have to do is observe butterflies for fifteen minutes to count the number and kind of species, and then submit your results online. It couldn't be simpler.
Remember, the project ends soon so get out and start counting today. Who knows, you might even get inspired to fill the rest of your summer with butterflies by exploring one of the many other SciStarter butterfly projects!
By Lisa Gardiner July 6th, 2011 at 3:35 pm | Comment
This post was originally published on Citizen Science Buzz, a blog on TalkingScience that highlights science projects that are helping us better understand our planet and the Universe.
Ever seen little points of light buzzing around outside on summer nights? Those lights – fireflies – are beetles that create light through a chemical reaction.  By controlling the reaction, fireflies can turn on and off their lights. They flash light to communicate and find a mate.
Fireflies may be disappearing from some areas where they have been found in the past, so researchers are looking to citizen scientists for help understanding more about what is affecting fireflies.
Changes in the way we use land might be taking a toll on fireflies. For example, as natural landscapes are turned into lawns, fertilizers, pesticides and mowers may jeopardize fireflies, which spend daytime hours on the ground. Fireflies might also be affected by outdoor lights such as streetlights and the amount of water in the environment.
The Firefly Watch project gets the public involved collecting data about where fireflies are found. If you live east of the Rocky Mountains in the United States and have ten minutes a week to look for fireflies in the evening, consider signing up as a volunteer.
By John Ohab June 17th, 2011 at 10:22 am | Comment
Next week is National Pollinator Week!
Pollinators, like bees, birds, and butterflies, play an important role in all of our lives. They aid in flowering plant reproduction, help ensure the health of national forests and grasslands, and work together with famers and ranchers in the production of fruits and vegetables. National Pollinator Week is a yearly effort to build more awareness about the need to maintain a healthy pollinator population.
Today, we're highlighting one of the many National Pollinator Week events taking place all over the nation: the Missouri Botanical Garden's Pollinator-Palooza.
To celebrate National Pollinator Week, the Missouri Botanical Garden's Sophia M Sachs Butterfly House is connecting people with pollinators in a whole new way. On Father's Day, families in the Greater St Louis Area and beyond are invited to join games and crafts (designed for kids ages 2-11), observe bee hives, and ask a trained entomologist about pollination or the pollinators themselves.
I had a chance to chat with Laura Chisholm, a program specialist and entomologist at the Sophia M Sachs Butterfly House, about what we can expect at this weekend's Pollinator Palooza. Laura knows her bugs! She runs the Pollinator-Palooza event and Bug Hunt which occur during the June and July. She also assists with other special events throughout the year, including October Owls and Orchids, March Morpho Mania, Booterflies, and Hot! Hot! Hot!
By Elizabeth Walter May 1st, 2011 at 2:50 pm | Comment
As a child growing up in New Hampshire, I remember going with my mother to collect Monarch chrysalises for my science classes. We'd park off a nearby roadway, spy a patch of milkweed, and poke around until we found a chrysalis or two. During the next week or so, my classmates and I watched spellbound at the transformation from chrysalis to butterfly. Science truly came alive!
Well, it's that time of year again. After spending the winter sunning in Mexico or southern California, adult Monarch butterflies migrate north (as far as Canada!) during the spring to lay their eggs.
Researchers with the Monarch Larva Monitoring Project need your help keeping an eye on these critters during all stages of development from now through September!
Since Monarch larvae feed only on milkweed, accessible, abundant milkweed is critically important for the survival of this butterfly species. The Monarch Larva Monitoring Project needs your help to keep an eye on local patches of milkweed, and to count monarch eggs and larvae, and assess milkweed density. Whether you have time to send in observations once a week, or anecdotally as you come across Monarchs, they want your data! Sign up online, and send in your sightings today!
To ensure that citizen scientists collect data in a standardized way, periodic training sessions are held. Looks like there are some coming up in later in May!
For science teachers who would like to incorporate ecology into their classroom, check out the Monarchs in the Classroom summer workshops.
For those of you who are impatient, check out this time-lapse video of the process, first from caterpillar to chrysalis and then from chrysalis to butterfly.
Looking for more citizen science opportunities? Sign up for the Science for Citizens newsletter!
By John Ohab April 22nd, 2011 at 11:25 am | Comment
Today is Earth Day, a perfect excuse to get out and help the planet!
Researchers need YOUR help tracking the presence of American robins, so they can compare your observations with other environmental data, including climate and weather changes.  American robins are arriving in the Colorado Rockies 14 days earlier than they did 30 years ago and have been spotted in parts of Alaska for the first time. Because robins consume a wide variety of foods, an increase or decrease in their population may indicate (or impact) changes in other animal and plant species. It's time for you to get involved and help the planet!
All you have to do:
1. Spot a robin
2. Record the date and location
3. Take note of its activity (what is it doing? what is it eating? is it near other birds?)
4. Share your results
This project is part the Changing Planet series, presented by the National Science Foundation, NBC News, Discover Magazine, Science For Citizens and Planet Forward. Changing Planet" is a series of three televised Town Hall meetings, hosted by Tom Brokaw of NBC News, on what climate change means. The first event, held at Yale, airs on the Weather Channel tonight at 8pm ET. We'll also post the video here on Monday, April 25.
Here are four other awesome projects to start on Earth Day:
| | |
| --- | --- |
| | Earth Day Photo and Essay Contest: Celebrate Earth Day with middle school students (grades 5-8) across the country by taking a photograph of something changing in your local environment. Then, research and write an essay about the photograph. The Institute for Global Environmental Strategies will award a variety of prizes, including a digital camera, digital photo frame and digital photo keychain, and more. Send in your pictures by April 29, 2011! |
| | Sound Around You: Help researchers build a sound map of the world as part of a study into how sounds in our everyday environment make us feel. Just use your mobile phone (or other recording device) to record 10 to 15 second clips from different sound environments, or "soundscapes" – anything from the inside of a family car to a busy shopping center. Then, upload the clips to a virtual map! |
| | Cloned Plants Project: Plant a lilac and contribute to a phenology monitoring project over 50 years in existence! Participants plant a lilac clone and record observations of recurring life cycle stages such as leafing and flowering on the USA National Phenology Network webpage. Observations of cloned plants help predict crop yields and bloom dates of other species, control insects and disease, and assist with monitoring the impact of global climate change. |
| | BeeSpotter: Get out there with your camera and capture some good pictures of bees! Researchers need your help better understand bee demographics in the state of Illinois. You'll help BeeSpotter researchers establish a baseline for monitoring bee population declines and learn about bees in the process. |
Looking for more citizen science opportunities? Sign up for the Science for Citizens newsletter!
By John Ohab February 28th, 2011 at 10:18 am | Comment
This is National Invasive Species Awareness Week!
Invasive species represent a significant threat to native plants, animals, and humans. They cause enormous disruptions in the natural ecological balance, inducing erosion, crowding out food sources, and reducing biodiversity. Invasive species are also a significant drain on the national economy.
If you're in the Washington, D.C. area today through March 4, you can register for a week full of free activities, briefings, and events to highlight what is being done around the world to stop and slow the spread of invasive species. You can also follow the action on Facebook.
Not in the DC area? Thanks to citizen science, there are still plenty of ways to play an active role in National Invasive Species Awareness Week. Here are some easy and fun citizen science projects that you can do:
What's Invasive: use a mobile phone to locate invasive plants in locations across the US or create your own list of plants that you want help in locating.
University of Florida Cuban Treefrog Citizen Science Project: capture and remove invasive treefrogs around your homes, collect and submit data on these frogs, and monitor for native treefrogs.
Global Garlic Mustard Field Survey: help scientists gather data on the abundance and distribution of an invasive plant called "garlic mustard" (scientific name: Alliaria petiolata).