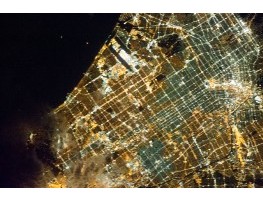 | | |
| --- | --- |
| Rating | (log in to rate this project) |
| Updated | 08/07/2016 |
| Participation fee | $0 |
| Expenses | $0 |
| Spend the time | indoors |
| Location | online |
| Appropriate for kids | yes |
| Teaching materials | no |
Required Gear:
Computer with internet connection
Night Cities
Study light pollution & energy consumption from night sky images
Locate and georreference cities from ISS images
Since 2003, the astronauts have been taking photos from the International Space Station. Many of these images have been published on the websites of participating agencies or the Twitter accounts of the astronauts. However, most of the images taken by astronauts have not been published remaining on archive without being shown to the world. We have added a section to this gallery dedicated to displaying more than a thousand examples of images of cities at night. However, there are still hundreds of thousands of images on file to discover. You can help.
Light pollution causes serious problems. Its effects can be measured from the inside of our bedroom to hundreds of kilometers away. The light destroys the essence of the evening darkness. Humans have an ancestral fear of the dark, but too much light produces very negative effects on the ecosystem and our health.
Satellite images help us measure and compare large illuminate areas. With the colors of the images taken by astronauts on the International Space Station, we can measure the efficiency of lighting in many cities on the planet.
We need volunteers to help us sort the pictures and identify the locations of the images to create maps of light pollution. It will help governments and local authorities to make the right decisions to reduce light pollution.
---
---