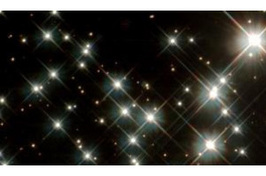 Photo: NASA
| | |
| --- | --- |
| Rating | |
| Participation fee | $0 |
| Expenses | $0 |
| Spend the time | outdoors |
| Location | |
| Appropriate for kids | yes |
| Teaching materials | yes |
Required Gear:
1) your eyes,
2) the charts from www.globeatnight.org,
3) a flashlight covered by a red balloon (optional),
4) address of where you are taking the measurement,
5) internet access
GLOBE at Night
Raise awareness about light pollution.
Measure the night sky brightness.
Six out of 10 people in the US have never seen our Milky Way Galaxy arch across their night sky from where they live. And the problem of light pollution is quickly getting worse. Within a couple of generations in the U.S., only the national parks will have dark enough skies to see the Milky Way.
Too much outdoor lighting not only affects being able to see the stars, but also wastes energy and money, about 2 to 10 billion dollars a year. And it has been shown to cause sleep disorders in people and to disrupt the habits of animals like newly hatched sea turtles that try to find their way back into the ocean but are disoriented by streetlights.
Light pollution may be a global problem, but the solutions are local. To help people "see the light", an international star-hunting program for students, teachers, and the general public was created called GLOBE at Night. GLOBE at Night is now in its 6th year and is hosted by the U.S. National Optical Astronomy Observatory.
For 2015 we are collecting your observations during all 12 months of the year! See the dates below and plan to get involved.
January 11-20
February 9-18
March 11-20

April 9-18
May 9-18
June 8-17

July 7-16
August 5-14
September 3-12

October 3-12
November 2-11
December 2-11

Through this program, children and adults are encouraged to reconnect with the night sky and learn about light pollution and in doing so, become citizen scientists inspired to protect this natural resource. Teachers like the GLOBE at Night program, because it lends itself to cross-curricular learning: astronomy, geography, history, literature, and writing. The possibilities are great.
---
---