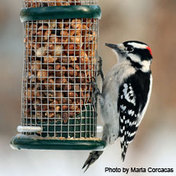 | | |
| --- | --- |
| Rating | (log in to rate this project) |
| Updated | 06/07/2016 |
| Presented by | Cornell Lab of Ornithology |
| Participation fee | $18 |
| Expenses | $0 |
| Spend the time | outdoors |
| Location | |
| Appropriate for kids | yes |
| Teaching materials | no |
Required Gear:
Participants need to select a designated area with feeders, water, or plantings provided to attract birds. The area could be a portion of their yard or a public area--any place that can be monitored regularly. A field guide and binoculars are helpful but not required. Participants count birds as little or as much as they want over two consecutive days as often as once a week. Counts can take place less frequently but not more frequently.
Project FeederWatch
Monitor backyard feeder birds.
Count birds in the participant's backyard.

You can pre-register for this project!
Project FeederWatch is a winter-long survey of birds that visit feeders at backyards, nature centers, community areas, and other locales in North America. FeederWatchers periodically count the birds they see at their feeders from November through early April and send their counts to Project FeederWatch.
Anyone with an interest in birds can participate! FeederWatch is conducted by people of all skill levels and backgrounds, including children, families, individuals, classrooms, retired persons, youth groups, nature centers, and bird clubs.
FeederWatch data help scientists track broadscale movements of winter bird populations and long-term trends in bird distribution and abundance. FeederWatch results are regularly published in scientific journals and are shared with ornithologists and bird lovers nationwide. The counts you submit will make sure that your birds (or lack of birds) are represented in papers and in the results found in the Explore Data section of the FeederWatch website.
---
---