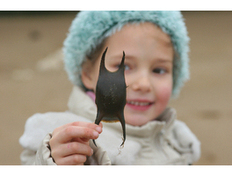 Photo: © Sands
| | |
| --- | --- |
| Rating | |
| Presented by | The Shark Trust |
| Participation fee | $0 |
| Expenses | $0 |
| Spend the time | outdoors |
| Location | anywhere |
| Appropriate for kids | no |
| Teaching materials | yes |
Required Gear:
- A stick/boot to poke around in the seaweed so you don't get any nasty surprises.
- A bag/bucket to collect your eggcases.
- Camera/smartphone to photograph.
- Great Eggcase Hunt ID guide to identify your finds.
- Access to the online recording form to let us know what you've found!
The Shark Trust: Great Eggcase Hunt
To improve knowledge of egglaying shark & skate distribution.
Hunt for empty eggcases washed up on the beach, or found in-situ
The Shark Trust's Great Eggcase Hunt was established in 2003 and has been engaging the public in hunting for empty shark, skate and ray eggcases along the UK coastline ever since. Thanks to its supporters, the Trust now has an extensive and ever expanding database of eggcase records, which continues to provide crucial information about the distribution of British sharks, skates and rays (collectively known as elasmobranchs).
An eggcase, which is also known as a mermaid's purse, is a tough leathery case that protects the embryo of a shark, skate or ray. Each eggcase contains one embryo which will develop over several months into a miniature version of the adult. There are over ten species of skate and ray, and only a few species of shark in UK waters that reproduce by laying eggcases on the seabed. Each species' eggcase is different in shape and size, which allows us to identify them. Eggcases remain on the seabed until the juvenile has hatched, and then the empty eggcases often get washed up on beaches and can be found amongst the seaweed in the strandline – we're also keen to hear about eggcases that are seen in-situ while snorkelling or diving!
In recent decades, several species of shark, skate and ray around the British coast have dramatically declined in numbers. The empty eggcases are an easily accessible source of information on the whereabouts of potential nursery grounds and will provide the Trust with a better understanding of species abundance and distribution.
The Great Eggcase Hunt currently receives funding from Save Our Seas Foundation (SOSF), and this assures the continued expansion of this exciting, flagship project. The Shark Trust is building upon the existing project, which represents one of the UK's most popular marine volunteer recording programs, and encouraging more international records. The Trust is currently collaborating with the Wildlife Conservation Society (WCS) to establish the project in the USA, and is developing resources for species found along the New York coastline. A smartphone app is also in development and aims to encourage more people to take part and record their eggcases.
---
---