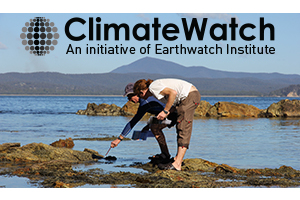 Rating
(log in to rate this project)
Updated
10/05/2016
Presented by
Earthwatch Australia
Participation fee
$0
Expenses
$0
Spend the time
outdoors
Location
Australia
ClimateWatch

Appropriate for kids
yes
Teaching materials
yes
Required Gear:
ClimateWatch
Help us understand effects of climate change on our species.
You'll learn, observe and record seasonal changes in nature.

You can pre-register for this project!
Project locations:
ClimateWatch was developed by Earthwatch Institute with the Bureau of Meteorology and the University of Melbourne to understand how changes in temperature and rainfall are affecting the seasonal behaviour of Australia's plants and animals. The first continental phenology project in the Southern Hemisphere, ClimateWatch enables every Australian to become a citizen scientist, collecting and recording data that will help shape the country's scientific response to climate change. You can record anywhere, anytime - from a jog around the block all the way to a camping trip.
Earthwatch has established almost 60 ClimateWatch trails in partnership with local governments, botanical gardens, environmental education centres and universities across the country. Walking a trail is a great way to involve your family, friends, students or colleagues in discovering your local environment while contributing to important research.
ClimateWatch is an authentic learning experience that can be incorporated into school excursions, corporate CSR strategies or local events.
The ClimateWatch system provides: An opportunity for educators to introduce their students to phenology, biodiversity, and climate change. A greater understanding, while raising public awareness, of the response of Australia's biodiversity to climate change; An online system for collecting, storing, interpreting and reporting indicators of biological responses to climate; and The ability to predict and monitor changes in native and pest species distributions and to test their sensitivity to climate.
---
---