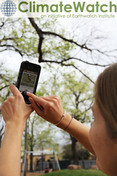 | | |
| --- | --- |
| Participation fee | $0 |
| Expenses | $0 |
| Spend the time | outdoors |
| Location | Australia |
| Appropriate for kids | yes |
| Teaching materials | no |
Required Gear:
A computer with Internet access.
ClimateWatch
ClimateWatch aims to create a leading online database for environmental scientists studying the effects of climate change in Australia. It will be created from data entered by citizen scientists and other volunteer observers all around the country who will record their observations and then enter them into the ClimateWatch website.
Climate change is affecting rainfall and temperature across Australia. As a consequence, flowering times, breeding cycles and migration movements are also changing. Scientists have very little data available to understand the impacts of this. You can help.
By observing the timing of natural events (the study of phenology), such as the budding of flowers, falling of leaves and the appearance of migratory birds, the data you collect and record will help shape the country's scientific response to climate change.
---
---