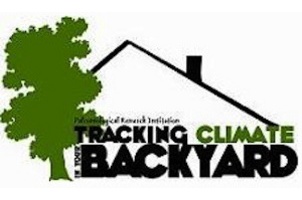 | | |
| --- | --- |
| Participation fee | $0 |
| Expenses | $0 |
| Spend the time | outdoors |
| Location | New York United States |
| Appropriate for kids | yes |
| Teaching materials | no |
Required Gear:
Global positioning system loaner kits are available through Cornell Cooperative Extension. Project materials and curriculum are free to download for use by anyone.
Tracking Climate in Your Backyard
| | |
| --- | --- |
| | Engage youth in real science via weather tracking. |
| | Record and share precipitation data. |
Tracking Climate in Your Backyard seeks to engage youth in real science through the collection, recording, and understanding of precipitation data in the forms of rain, hail, and snow.
The purpose of this project is to encourage youth, specifically ages 8-12, to better understand the scientific process by engaging them in the collection of meaningful meteorological data in their community. In this way, youth develop an understanding of scientific methods and standardization, and by recording and sharing their data through a citizen science project, they recognize the importance of accurate data collection. The citizen science portion of the project, the Community Collaborative Rain, Hail, and Snow Network, collects precipitation data for scientific analysis and for issuance of severe storm warnings and flash flooding events. We believe that when youth know they are contributing data to a real, scientific cause, their engagement levels rise.
This National Science Foundation-funded project is a collaboration between the Paleontological Research Institution and Museum of the Earth, which have experience in professional development and informal education, New York State 4-H, which provides an excellent outreach base and fosters hands-on, experiential learning for youth, and the Community Collaborative Rain, Hail, and Snow Network, which runs a citizen science project to record precipitation measurements in an online database.
---
---