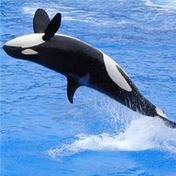 | | |
| --- | --- |
| Participation fee | $0 |
| Expenses | $0 |
| Spend the time | indoors |
| Location | online |
| Appropriate for kids | yes |
| Teaching materials | no |
Required Gear:
To listen to the hydrophones, you must be able to receive ShoutCast streams. Advice about appropriate software can be found at http://www.orcasound.net/ under "Listening Guidance."
Killer Whale Tracker
| | |
| --- | --- |
| | Monitor endangered Pacific Northwest killer whales. |
| | Detect orca sounds and measure noise levels using hydrophones. |
The Salish Sea Hydrophone Network needs volunteers to help monitor the critical habitat of endangered Pacific Northwest killer whales by detecting orca sounds and measuring ambient noise levels. Volunteers are especially needed to help notify researchers when orcas are in the Salish Sea, which encompasses the waters of Puget Sound and the surrounding area.
Sponsored by a coalition of organizations, including the National Oceanic and Atmospheric Administration and the Whale Museum in Olympia, Washington, the network consists of five hydrophones, each hooked up to a computer to analyze the signal and stream it via the internet.
Even though software is used to distinguish animal from other underwater sound, human ears do a better job. So volunteers monitor the network from their home computers anywhere in the world, and alert the rest of the network when they hear whale sounds. Sometimes boats or onshore monitors are deployed to observe the whales while they are making sounds. Researchers hope to learn more about the uses of orca communications and whale migration patterns.
---
---