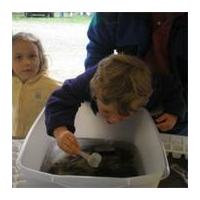 | | |
| --- | --- |
| Rating | (log in to rate this project) |
| Updated | 08/07/2016 |
| Participation fee | $0 |
| Expenses | $0 |
| Spend the time | outdoors |
| Location | anywhere |
| Appropriate for kids | yes |
| Teaching materials | no |
Required Gear:
River Bug Hunts
Explore the world of aquatic insects and larvae!
Collect & catalog bugs from the bottom of a wadeable stream.
Since 2000, volunteers with Vermont's Black River Action Team have helped to clean up and take care of the Black River and its tributaries.
Among our activities are the very popular River Bug Hunts: Throughout the year, as a way of assessing the overall health and condition of the water, we explore what lives beneath the surface of the river. Larvae of caddisflies, stoneflies, and mayflies are the most commonly used critters for this purpose. We'll gather aquatic insects from the bottom of the river, sort them by body type, then identify and count them. Over time, we'll start to get a good picture of the quality of the river.
So grab some simple equipment and your sense of adventure: We're going on a Bug Hunt!
Needed: a wadeable stream with a shallow, fast-moving reach called a "riffle," where the water ripples up and over a rocky bottom. The current should not be too strong to wade, and the rocks should be small enough to pick up and rub off into a plastic dish pan or other small tub. A white dish pan or tub, ice cube trays for sorting, and small scoops such as you'll find in baby formula or powdered drink mixes.
---
---