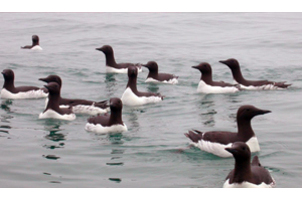 Photo: FWS
| | |
| --- | --- |
| Rating | |
| Participation fee | $0 |
| Expenses | $0 |
| Spend the time | outdoors |
| Location | |
| Appropriate for kids | no |
| Teaching materials | no |
Required Gear:
Binoculars or spotting scope, compass, ruler, and several downloadable protocols and survey forms located online on the project's Tool Kit webpage: http://www.seattleaudubon.org/sas/WhatWeDo/Science/CitizenScience/PugetSoundSeabirdSurvey/ResourcesandDownloads/tabid/101/Default.aspx.
Volunteers will receive a Survey Kit with the required gear.
Puget Sound Seabird Survey
Gather valuable data on wintering seabirds in the Puget Sound.
From October to April, identify/count birds each month.
Volunteer birdwatchers with the Puget Sound Seabird Survey gather valuable data on wintering seabird populations in the Puget Sound. The project is organized by the Seattle Audubon Society.
During monthly winter surveys from October to April, volunteers identify and count birds from the Puget Sound shoreline using a protocol designed by leading seabird researchers. Volunteers count all species of coastal seabirds including geese, ducks, swans, loons, grebes, cormorants, gulls, terns, and alcids. These data will be used to create a snapshot of seabird density on more than three square miles of nearshore saltwater habitat.
Puget Sound Seabird Survey is the only land-based, multi-month survey in the central or south Puget Sound.
---
---