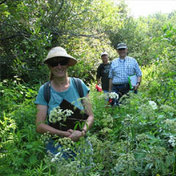 | | |
| --- | --- |
| Participation fee | $0 |
| Expenses | $0 |
| Spend the time | outdoors |
| Location | United States Chicago Wilderness (parts of IL, WI, IN) |
| Appropriate for kids | yes |
| Teaching materials | no |
Required Gear:
Below is a list of items you will need in the field. Some of these materials may be borrowed from Plants of Concern or one of the Forest Preserve Districts.
- Most recent monitoring report with any available maps
- Blank Monitoring Form for each subpopulation
- Clipboard and pencils
- Compass
- 50m tape
- Flags and/or flagging
- Global positioning system (GPS) unit
- Permits: required for Nature Preserves and many publicly owned sites
- Digital camera
The full project manual can be downloaded at http://www.plantsofconcern.org/forms_protocols/
Plants of Concern
Plants of Concern engages citizen scientists to monitor the Chicago Wilderness region's rarest plants, assess trends in their populations, and provide important data used to conserve our rapidly declining floral heritage.
The program aims to:
Monitor endangered, threatened, and locally rare plant species using standardized protocols

Assess long-term trends in rare plant populations in response to management activities and/or threats to populations

Train volunteers as citizen scientists to monitor rare plant populations and become conservation advocates

Provide information on population trends and potential threats to the populations to public and private landowners, land managers, and agencies as feedback to help determine future management practices
Since its ambitious inception in 2000, Plants of Concern has grown and continues to expand. New sites, plant species, and volunteers have been added every year. The importance of volunteer participation cannot be stressed enough, for it is literally the backbone of the program. Plants of Concern has thrived because of the dedication and perseverance of volunteers and the collaboration of regional partners.
You can help! The project needs volunteers of all skill levels to help with monitoring rare species in IL, WI, and IN.
---
---