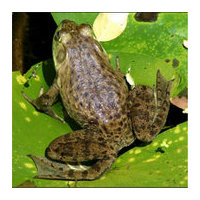 | | |
| --- | --- |
| Participation fee | $0 |
| Expenses | $0 |
| Spend the time | outdoors |
| Location | Florida USA West-central Florida |
| Children | yes |
| Primary school | yes |
| Secondary school | yes |
| Teaching materials | yes |
Required Gear:
A computer with Internet access. The project will provide additional necessary materials.
Frog Listening Network
The Frog Listening Network trains community volunteers of all ages and backgrounds to collect data about frog and toad populations in west-central Florida. Volunteers learn how to identify amphibians both by sound and by sight.
Volunteers receive free trainings complete with educational materials such as audiotapes and compact discs, CD-ROMs, and full-color field identification cards to help learn each amphibian species and their individual calls. Volunteers also learn how to collect and record frog population data in a way that's fun and easy.
Amphibians are considered "sentinels" of environmental health because of their sensitive skin. Their populations are declining worldwide, so frog and toad populations need to be monitored in Florida. By watching them and keeping track of their populations, we can begin to understand the health of the environment. It is difficult to assemble a professional team to do this, which is why the project relies on the help of volunteers. Although similar to other amphibian monitoring groups across the country, the Frog Listening Network is the only group of its kind in west-central Florida.
Along with additional environmentally important data collected by others, the frog data are compiled into an annual report that is made available for use by the Florida Fish and Wildlife Conservation Commission and the National Amphibian Monitoring Program. These data help to paint a picture of the health of the environment.
---
---