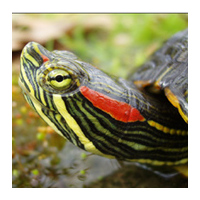 | | |
| --- | --- |
| Rating | (log in to rate this project) |
| Updated | 11/10/2016 |
| Presented by | Fort Worth Zoo |
| Participation fee | $0 |
| Expenses | $0 |
| Spend the time | outdoors |
| Location | 1989 Colonial Parkway Texas United States 76110 |
| Appropriate for kids | yes |
| Teaching materials | no |
Required Gear:
Bring a digital camera, binoculars, and guide books. A global positioning system (GPS) device is optional.
Texas Turtle Watch
Texas Turtle Watch is a citizen science program developed to study three native turtle species whose population numbers are poorly understood. After volunteers collect numbers and trends over time, the data will directly contribute to an understanding of these native Texas turtle species.
The data collected by citizens plays a critical role in learning more about turtles. By counting the number of turtles they see basking in the sun, trained citizen watch groups of all ages and interests will help scientists create a knowledge base about turtles populations in Texas, which will lead to better conservation efforts and strategies. Additionally, citizens involved in monitoring turtles are provided a unique opportunity to get outside while contributing to science and conservation research.
The three turtle groups of focus are sliders (genus Trachemys), cooters (genus Pseudemys) and softshells (genus Apalone) because these species are frequent baskers. Their basking and nesting behaviors make them more visible than other turtle species.
Through the Texas Turtle Watch program, local citizens of all ages are provided an unique opportunity to explore the world around them while contributing to local conservation efforts. Become a Texas Turtle Watcher today!
---
---