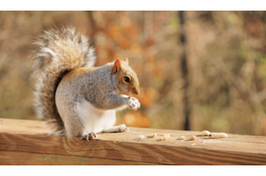 | | |
| --- | --- |
| Rating | (log in to rate this project) |
| Updated | 08/07/2016 |
| Participation fee | $0 |
| Expenses | $0 |
| Spend the time | outdoors |
| Location | anywhere |
| Appropriate for kids | yes |
| Teaching materials | no |
Required Gear:
A computer with Internet access.
Project Squirrel
Help scientists better understand urban squirrel biology.
Count squirrels in your neighborhood, report findings online.
Project Squirrel is calling all citizen scientists to count the number of squirrels in their neighborhoods and report their findings. The goal is to understand urban squirrel biology, including everything from squirrels to migratory birds, nocturnal mammals, and secretive reptiles and amphibians. To gain data on squirrel populations across the United States, citizen scientists will also be asked, when possible, to distinguish between two different types of tree squirrels - gray and fox.
Anyone can participate in Project Squirrel. No matter where you live, city or suburb, from the Midwest to the East Coast, Canada to California, if squirrels live in your neighborhood, you are encouraged to become a squirrel monitor.
The scientists at Project Squirrel will also use this project to understand the effect that participation in citizen science has on participants. By contributing to Project Squirrel and documenting your experience, you can provide valuable information that will eventually be used to recruit other citizen scientists.
---
---