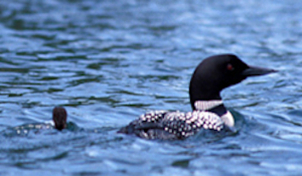 Photo: National Park Service
| | |
| --- | --- |
| Participation fee | $0 |
| Expenses | $0 |
| Spend the time | outdoors |
| Location | Montana United States Glacier National Park |
| Appropriate for kids | no |
| Teaching materials | no |
Required Gear:
A global positioning system (GPS) device is optional.
Common Loon Project
| | |
| --- | --- |
| | Help park managers obtain baseline information on plant/animals. |
| | Conduct environmental surveys at Glacier National Park. |
The Common Loon Citizen Science Project needs volunteers to conduct surveys at 45 high priority lakes in Glacier National Park to document presence of common loons and observations of breeding and nesting behaviors.
Common Loons are a Montana Species of Special Concern, and Glacier National Park harbors about 20 percent of Montana's breeding pairs. Since 1988, data has been collected once every year during Loon Days. Analysis of these data indicate lower reproductive rates for pairs in the park compared to the rest of Montana. Finally, there is evidence that loons are adversely impacted by human disturbance at nest and nursery sites.
The Common Loon Citizen Science Project educates park staff and volunteers on successful identification and observation techniques when surveying for loons in hopes of increasing our understanding of this species. By improving accuracy of sightings and surveys and increasing coverage of lakes with loons throughout the nesting season, the project aims to gather season-long information to gain a better estimate of the health of Glacier National Park's loon population. The project will also use the data to begin to identify factors affecting nesting success.
Since 2005 the Glacier National Park Citizen Science program has enlisted trained park visitors, staff and volunteers to collect scientific information that would otherwise be unavailable to resource managers and researchers due to lack of personnel or funding. For citizen scientists, the rewards are a sense of stewardship and a greater awareness and understanding of the park's resource issues. For the park, it provides a wealth of data which can be used to increase understanding of our natural resources, offering an opportunity to get much-needed baseline information about key plant and animal species.
---
---