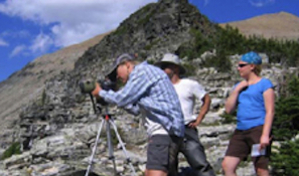 | | |
| --- | --- |
| Participation fee | $0 |
| Expenses | $0 |
| Spend the time | outdoors |
| Location | Montana United States Glacier National Park |
| Children | no |
| Primary school | yes |
| Secondary school | yes |
| Teaching materials | no |
Required Gear:
Compass, global positioning system (GPS) device, spotting scopes, and appropriate hiking gear.
High Country Citizen Science Project
| | |
| --- | --- |
| | Help Glacier Park rangers determine the status of mountain goats |
| | Collect data on the distribution of mountain goats. |
The High Country Citizen Science Project needs volunteers to participate in back-country surveys to collect data on the number and distribution of mountain goats, pikas, and Clark's nutcrackers, three species of concern in the high country of Montana's Glacier National Park. This contribution will enable the park to more effectively manage these species and their habitats.
Concern about wildlife in Glacier's alpine and sub-alpine areas is growing. High country habitats are highly vulnerable to impacts from climate change and invasions of insects and plant diseases. Mountain goat and pika population declines have been documented in areas outside of Glacier, and whitebark pine, a primary food source for Clark's Nutcrackers that is declining rangewide, is clinging to existence in Glacier. Yet, little is known about the status of each of these wildlife species in Glacier.
Participants attend a one-day classroom and field-based education program. Participants learn about species identification, management concerns, and how to observe and document observations of each species. They also learn how to use field equipment such as spotting scopes, compasses, and global positioning system (GPS) units.
Since 2005, the Glacier National Park Citizen Science program has utilized trained park visitors, staff, and volunteers to collect scientific information that would otherwise be unavailable to resource managers and researchers due to lack of personnel or funding. For citizen scientists, the rewards are a sense of stewardship and a greater awareness and understanding of the park's resource issues. For the park, it provides a wealth of data that can be used to increase understanding of our natural resources, offering an opportunity to get much-needed baseline information about key plant and animal species.
---
---