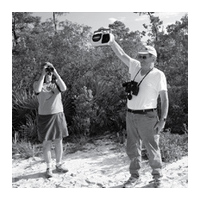 | | |
| --- | --- |
| Participation fee | $0 |
| Expenses | $0 |
| Spend the time | outdoors |
| Location | Florida United States Lake Wales Ridge |
| Children | no |
| Primary school | yes |
| Secondary school | yes |
| Teaching materials | no |
Required Gear:
Binoculars, notebook, and writing instrument.
Jay Watch: Monitoring Florida's Only Endemic Bird
Jay Watch needs volunteers in Florida to conduct surveys of the charismatic scrub-jay, the only Florida bird species that lives nowhere else on earth. Volunteers play recorded, territorial scrub-jay calls to attract the birds, then observe and record the number of family groups, adults and juveniles. Volunteers note any band color combinations, helping track individual birds. Information is recorded on aerial maps by volunteers in the field and is then computerized.
During spring workshops, volunteers learn about Florida scrub-jay identification and biology, the scrub ecosystem and survey protocols. Permanent survey locations are established and each site is surveyed three times—before noon on separate days—to ensure all scrub-jays are observed. Jay Watch surveys are conducted from mid-June through July.
The scrub-jay is considered the indicator species of Florida's oldest wild lands – the ancient islands that make up today's scrub. When the scrub-jay does not thrive, something is wrong with its habitat.Today, degradation of scrub habitat pushes the scrub-jay toward extinction; they are listed as a threatened species by state and federal governments.
Unless people act, the Florida scrub-jay may blink right out of existence. The Conservancy and our Jay Watch partners know what the scrub-jay needs and how to provide it. The time to act is now. Will you help?
---
---