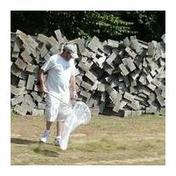 | | |
| --- | --- |
| Participation fee | $0 |
| Expenses | $0 |
| Spend the time | outdoors |
| Location | anywhere |
| Appropriate for kids | yes |
| Teaching materials | no |
Required Gear:
Hat & Sunscreen
Wasp Watcher
Monitoring wasp colonies for invasive beetles that kill trees...WaspWatchers is a citizen scientist program which began in Maine and has now spread throughout Ontario, New England, the Eastern Seaboard and parts of the Midwest (Wisconsin, Ohio and Michigan). Across this broad area, the program's goal is to… Engage and support the general public and government agencies with discovery and monitoring of their natural Cerceris fumipennis colonies; monitoring for both native and introduced species of Buprestidae beetles including the Emerald Ash Borer. Who are WaspWatchers? They are a combination of enthusiastic government staff, students and public volunteers. An efficient alliance is to utilize professional staff/students to search for colonies and then enlist the public volunteers to 'adopt' and monitor the colonies.
---
---