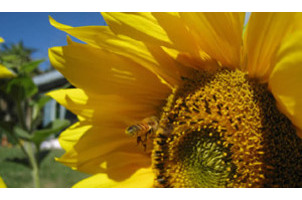 Photo: FWS
| | |
| --- | --- |
| Participation fee | $0 |
| Expenses | $0 |
| Spend the time | outdoors |
| Location | anywhere |
| Appropriate for kids | yes |
| Teaching materials | no |
Required Gear:
'Lemon Queen' Sunflower seeds (or other observation plant), garden space or planting pot, and a computer with Internet access.
The Great Sunflower Project
| | |
| --- | --- |
| | Help create national bee population map to study decline of bees |
| | Plant sunflowers. Watch for bee visits, 15 min, twice a month. |
The Great Sunflower Project uses data collected by citizen scientists to produce the first real map of the state of the bees.
Some bee populations have experienced severe declines that may affect food production. However, nobody has ever measured how much pollination is happening over a region, much less a continent, so there is little information about how a decline in the bee population can influence gardens.
The Great Sunflower Project makes it easy to gather this information. Plant a seed or two, spend 15 minutes watching your flowers for bee visits, and send in your data. You can make as many observations as you want while your flowers are in bloom. Plant, Watch, Enter. Repeat. That's it. And, who doesn't like sunflowers?!
---
---