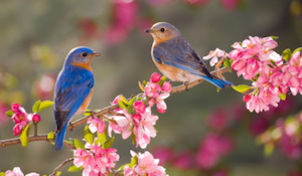 | | |
| --- | --- |
| Rating | (log in to rate this project) |
| Updated | 02/05/2016 |
| Participation fee | $0 |
| Expenses | $0 |
| Spend the time | outdoors |
| Location | anywhere |
| Appropriate for kids | yes |
| Teaching materials | no |
Required Gear:
You will be outdoors for hours at a time in winter weather. Depending on what area of the country you are in, you should be dressed appropriately for the weather, and have food and water available. You will also need a pencil and notebook for recording birds seen, a field guide and binoculars. Your count compiler will give you details about what you will need and how to conduct your count.
Christmas Bird Count
Contribute to the science of bird conservation
In 15-mile circle, count every bird you see/hear in 1 day.
Known as the first and oldest Citizen Science project, at over 115 years, Audubon's Christmas Bird Count is also one of the largest, with 70,000+ person-days of efforts and more than 64 million birds counted each year. The CBC has contributed greatly to the science of bird conservation with hundreds of publications, including many in important scientific journals. From December 14 through January 5 each year, tens of thousands of volunteers throughout the Americas take part in an adventure that has become a family tradition through the generations.
Count volunteers follow specified routes within a designated 15-mile diameter circle, counting every bird they see or hear all day, and submit data to each circle compiler. It's not just a species tally—all birds are counted all day, giving an indication of the total number of birds in the circle that day. If observers live within a CBC circle, they may arrange in advance to count the birds at their feeders and submit those data to their compiler. All individual CBCs are conducted in the period from December 14 to January 5 (inclusive dates) each season, and each count is conducted in one calendar day (24-hour period).
---
---