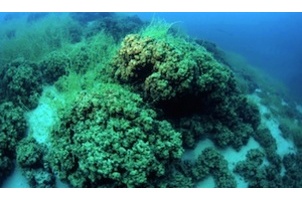 Photo: getmapper.com
| | |
| --- | --- |
| Participation fee | $0 |
| Expenses | $0 |
| Spend the time | outdoors |
| Location | online |
| Appropriate for kids | yes |
| Teaching materials | no |
Required Gear:
MAPPER
| | |
| --- | --- |
| | Help NASA pinpoint where to look for signs of life on Mars. |
| | Look for specific formations in images of the bottom of lakes. |
Help NASA find life on Mars by exploring the bottom of the lakes of British Columbia, Canada.
The Pavilion Lake Research Project (PLRP) has been investigating the underwater environment with DeepWorker submersible vehicles since 2008. Now with MAPPER, you can work side-by-side with NASA scientists to explore the bottom of these lakes from the perspective of a DeepWorker pilot.
The PLRP team makes use of DeepWorker subs to explore and document freshwater carbonate formations known as microbialites that thrive in Pavilion and Kelly Lake. Many scientists believe that a better understanding of how and where these rare microbialite formations develop will lead to deeper insights into where signs of life may be found on Mars and beyond. To investigate microbialite formation in detail, terabytes of video footage and photos of the lake bottom are recorded by PLRP's DeepWorker sub pilots. This data must be analyzed to determine what types of features can be found in different parts of the lake. Ultimately, detailed maps can be generated to help answer questions like "how does microbialite texture and size vary with depth?" and "why do microbialites grow in certain parts of the lake but not in others?". But before these questions can be answered, all the data must be analyzed.
---
---