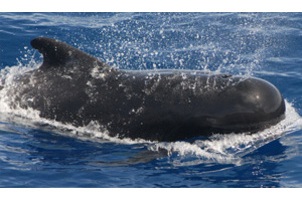 | | |
| --- | --- |
| Rating | (log in to rate this project) |
| Updated | 09/25/2016 |
| Participation fee | $0 |
| Expenses | $0 |
| Spend the time | indoors |
| Location | online |
| Appropriate for kids | yes |
| Teaching materials | no |
Required Gear:
Whale FM
Help scientists understand Killer & Pilot Whale communication
Listen to individual whale calls online, identify matches.
Marine scientists need your help to categorize the complex calls of Killer Whales (Orcas) and Pilot Whales and to understand what the calls mean.
Whales and dolphins make sophisticated sounds that play a critical role in communicating, orienting in the ocean environment, and locating food. Scientists have already begun to categorize Killer Whale calls; however, Pilot Whale calls are much less studied.
Project organizers have assembled recordings of two species from across the world's oceans and seas. Citizen scientists simply listen to individual whale calls and identify potential matching calls. Your contribution will help researchers understand what the whales are saying. You can also help discover whether certain calls are made by an individual, one group, or across broad areas.
---
---