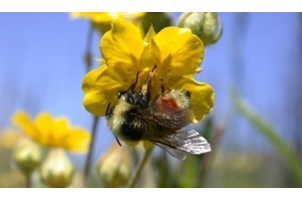 | | |
| --- | --- |
| Rating | (log in to rate this project) |
| Updated | 02/05/2016 |
| Presented by | The Xerces Society, Wildlife Preservation Canada, University of Ottawa, Montreal Insectarium, BeeSpotter, and The Natural History Museum in London |
| Participation fee | $0 |
| Expenses | $0 |
| Spend the time | outdoors |
| Location | anywhere |
| Appropriate for kids | yes |
| Teaching materials | no |
Required Gear:
This project requires a camera or a smartphone, the ability to upload photos to a website (using a computer or smartphone), and patience as photographing insects can be difficult.
Bumble Bee Watch
Help track North America's bumble bees.
Take and submit photos of bees near you.
Bumble Bee Watch (www.BumbleBeeWatch.org) is a collaborative effort to track and conserve North America's bumble bees. This citizen science project allows individuals or groups to: 1) Upload photos of bumble bees to start a virtual bumble bee collection; 2) Identify the bumble bees in your photos and have your identifications verified by experts; 3) Help researchers determine the status and conservation needs of bumble bees; 4) Help locate rare or endangered populations of bumble bees; 5) Learn about bumble bees, their ecology, and ongoing conservation efforts; and 6) Connect with other citizen scientists.
Find out more at http://www.bumblebeewatch.org/contents/about/
---
---