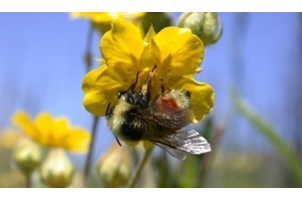 Photo: Richard Hatfield
| | |
| --- | --- |
| Participation fee | $0 |
| Expenses | $0 |
| Spend the time | outdoors |
| Location | anywhere |
| Children | no |
| Primary school | no |
| Secondary school | yes |
| Teaching materials | yes |
Required Gear:
This project requires a camera, the ability to send an e-mail with a photo attachment and patience. Photographing insects can be difficult. A GPS unit (or equivalent) would also be helpful.
Bumblee Bee Trackers
| | |
| --- | --- |
| | Help track population changes of five bee species. |
| | Take and submit photos of bees near you. |
In the late 1990′s, bee biologists started to notice a decline in the abundance and distribution of several wild bumble bee species. Three of these species (western bumble bee, rusty patched bumble bee, yellowbanded bumble bee) were once very common and important crop pollinators over their ranges. Franklin's bumble bee was historically found only in a small area in southern Oregon and northern California, and it may now be extinct. A recent study led by Sydney Cameron, Ph.D., has also drawn attention to a rapid decline of the American bumble bee.
We are very interested in tracking the status of these five bumble bee species and finding out where current populations are situated. If you have seen any of these bees please send us a photo. If you are interested in finding out more, would like to see the historical distribution of these bumble bees, or would like to know how to identify them, please visit our website.
We are also interested in collecting information about bumble bee nesting habits. Please let us know if you have found one.
---
---