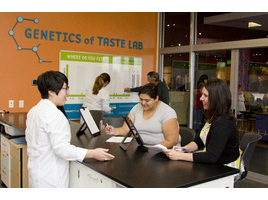 | | |
| --- | --- |
| Rating | (log in to rate this project) |
| Updated | 08/07/2016 |
| Presented by | Denver Museum of Nature & Science |
| Participation fee | $0 |
| Expenses | $0 |
| Spend the time | indoors |
| Location | 2001 Colorado Blvd. Colorado 80205 80205 |
| Appropriate for kids | yes |
| Teaching materials | no |
Required Gear:
This opportunity is onsite at the Denver Museum of Nature & Science and therefore the Lab provides all necessary equipment and training.
Genetics of Taste Lab
Determine if our mouth microbes affect sweet taste.
Enroll participants, prepare DNA and analyze taste genes.
Do mouth bacteria affect the way we taste sweetness?
Research suggests that humans range in their sensitivity to and liking of sweet-tasting molecules in our food. The Genetics of Taste Lab will take a novel look at genetics, both of the people who enroll and of the bacteria communities in their mouths (microbiome), to determine if the sensitivity and liking differences observed are due to both changes in the sweet genes AND the types of bacteria in our mouths.
Community Participation: Research & Educational Goals: The Genetics of Taste Lab is a unique venue for both citizen science AND crowdsourcing health data -We connect our community to research that is relevant to their lives. -We conduct research to answer real public health questions and publish in peer-reviewed scientific journals.
This study is led by Nicole Garneau, PhD (ngarneau@dmns.org) and Robin Tucker, PhD, RD (rtucker@bgsu.edu), and made possible by a partnership between the Health Science and Visitor Programs Departments at the Denver Museum of Nature & Science and the Department of Public and Allied Health at Bowling Green State University. To become a citizen scientist, contact our volunteer services office at 303.370.6419 or visit www.dmns.org/join/volunteering.
---
---