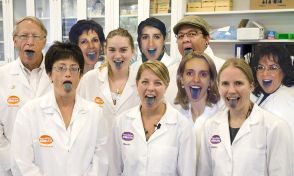 Photo: DMNS
| | |
| --- | --- |
| Participation fee | $0 |
| Expenses | $0 |
| Spend the time | indoors |
| Location | Denver Museum of Nature & Science 2001 Colorado Blv. Colorado United States 80205 Denver Museum of Nature & Science |
| Children | no |
| Primary school | no |
| Secondary school | no |
| Teaching materials | no |
| Begin date | 2012-01-03 |
| End date | 2012-12-31 |
Required Gear:
-Basic lab and molecular equipment
-Computers
-Biological Specimens
The Genetics of Taste: A Flavor for Health
| | |
| --- | --- |
| | Help scientists learn about gene that helps us taste "bitter." |
| | Have your DNA swabbed at the Denver Museum of Nature and Science |
Welcome to a world where very small changes in a person's DNA can have a huge impact on how they perceive taste.
The Denver Museum of Nature & Science is conducting a live research study, Genetics of Taste: A Flavor for Health, happening right now in the permanent exhibit Expedition Health. The Genetics Lab is the first community-based and community-run genetics lab in the country.
Why not have a bit of fun with the Museum's vision "to create a community of critical thinkers" and let the community take the wheel and drive a real research project. With that, our study on taste and health was born, and supported by a Science Education Partnership Award (SEPA) from the National Center for Research Resources (NCRR), National Institutes of Health (NIH).
Our community is involved in three unique ways:
The research questions were chosen by the public through town hall meetings and audience surveys.

The study is carried out by NIH-certified volunteer citizen-scientists.

Guests are enrolled as subjects into our study to allow every aspect of our community to participate in the project.
What is enrollment you ask?
We use a series of simple, but highly specific tests that are both fun and informative:
The first data collections station is to collect cheek cells from the guest using a small gentle brush (WARNING- this step kind of tickles). Those cells are then busted open (more to come on this process!) and the DNA is examined.

The next step is a taste test: will you be able to taste the bitter compound? Some people can, some people can't and some people taste it REALLY well!

The third station is the TANITA. A really fancy scale that measures all kinds of cool information about your body- all of which guest get to take home.

Finally, drum roll please…. We stain your tongue blue! Even though this station is super fun for our guest, it's also really important for us in Lab Central. You see, while the tongue stains blue, the taste buds stay pink, so we can take a super close-up scientific picture to count them.
Then we use the latest and greatest new Polaroid camera (prints right from the camera!) to take a fun photo of our guest to take home with them. Spoiler alert, the picture is also a sticker, how fun is that?
So here's the main point of all this chatting: through community participation in authentic research, the Genetics of Taste study increases public understanding of genetic research, while also making strides to better understand the genetic ancestry of the gene that dictates the ability to taste bitter, Tas2r38, and its affect on the health of modern day humans.
---
---