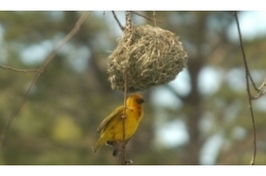 Photo: Dieter Oschadleus
| | |
| --- | --- |
| Participation fee | $0 |
| Expenses | $0 |
| Spend the time | outdoors |
| Location | anywhere |
| Appropriate for kids | yes |
| Teaching materials | no |
Required Gear:
Camera
Google maps (for urban areas where satellite imagery is good enough to identify where a weaver colony is located)
GPS for other areas
Internet connection to upload records
PHOWN, Photos of Weaver Nests
The aim of PHOWN is to study variation of colony sizes of weavers, to map their breeding distribution, and to study these aspects in relation to climate change. This is achieved with the help of citizen scientists submitting photos of weaver nests or colonies.
Some feral populations exist throughout the world, and may be included in PHOWN. Species include the true weavers, bishops and widows, queleas, social weavers, sparrow weavers, buffalo weavers, malimbes and fodies. Sparrows are not included.
Weavers are often common species, and often found near human habitation. This makes them easy to study. Some species are of conservation concern and for some the nest has not even been described yet!
---
---