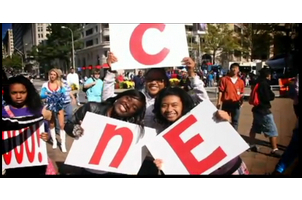 | | |
| --- | --- |
| Participation fee | $0 |
| Expenses | $0 |
| Spend the time | outdoors |
| Location | anywhere |
| Appropriate for kids | yes |
| Teaching materials | no |
Required Gear:
None for the Big Cheer alone but if you'd like to measure shaking:
If you have a Mac or an IBM Thinkpad laptop that you can use to record the Big Cheer, download the QCNlive software at http://qcn.stanford.edu/join-qcn/download.
If you or one of your students have a smartphone that you can use to record the Big Cheer, download a motion sensor app that records ground acceleration
Suggested apps:
iPhone: iSeismometer http://itunes.apple.com/us/app/iseismometer/id304190739?mt=8
Suggested hardware: Quake Catcher Sensor ($5 for teachers)
Shake it up! Big Cheer for Science.
| | |
| --- | --- |
| | Help seismologists detect and warn of earthquakes. |
| | Do 1 minute cheer on 4/27, 1:30 PM ET, measure ground's shaking. |
How much will the ground shake when your students take part in the Big Cheer on April 27, 2012 at 1:30pm ET (10:30am PT)?
Join the Big Cheer for Science on April 27, 2012 at 1:30 pm ET, presented by SciStarter, Science Cheerleader, USGS, the Iris Consortium, Discover Magazine and the USA Science and Engineering Festival. Anchored at the USA Science and Engineering Festival in Washington, DC, this one minute cheer will include plenty of stomping and shaking in an effort to get kids jazzed about science AND measure seismic activity caused by their cheer!
Liven up your classroom with a cheer that students do standing next to their desks.
In Washington, DC, dozens of Science Cheerleaders (scientists and engineers--who also happen to be cheerleaders for the Redskins, Wizards and Ravens among other NFL and NBA teams) will lead a one minute cheer for science with 10,000 students at the DC Convention center. While we're doing the cheer in DC, hundreds of schools across the country will do the same cheer at the same time.
During the cheer, you can have your students record your local ground movement during the Big Cheer and share it with other participating schools for comparison. Comparisons can be further made to how much the ground shakes during the Big Cheer at the Washington D.C. Convention Center and in your classroom and to how much it shakes during an actual earthquake.
To join the Big Cheer, click on the Join In tab above or the "Get Started" button to the right!
To learn about hundreds of other research projects in need of help from the public, check out the SciStarter Project Finder: http://scistarter.com/finder.
GOOOO SCIENCE and ENGINEERING!
---
---