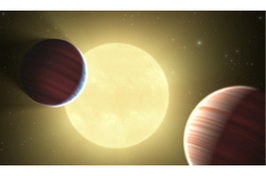 Photo: NASA/Ames/JPL-Caltech
| | |
| --- | --- |
| Rating | |
| Participation fee | $0 |
| Expenses | $0 |
| Spend the time | indoors |
| Location | online |
| Appropriate for kids | no |
| Teaching materials | no |
Required Gear:
A computer with Internet access.
Planet Hunters
Planet Hunters is a project from Zooniverse where citizen scientists help astronomers identify new planets.
Through data taken from the Kepler Spacecraft, citizens are helping scientists identify stars with possible planets in the Cygnus constellation. The Spacecraft takes brightness data every thirty minutes from over 150,000 stars so there is a lot to look at.
When planets pass in front of stars, the brightness of that star dips, which shows up on the light curves taken from Kepler. These patterns are not always easily recognized by computer algorithms, and in many cases, the human brain is actually more capable of identifying brightness dips.
---
---