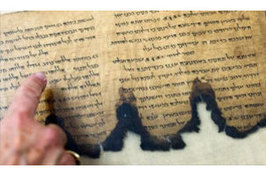 Photo: ORNL
| | |
| --- | --- |
| Participation fee | $0 |
| Expenses | $0 |
| Spend the time | indoors |
| Location | online |
| Children | no |
| Primary school | no |
| Secondary school | yes |
| Teaching materials | no |
Required Gear:
A computer with Internet access.
Ancient Lives
Ancient Lives allows citizen scientists to help transcribe ancient papyri texts from Greco-Roman Egypt. The data gathered will help scholars reveal new knowledge of the literature, culture, and lives of Greco-Romans in ancient Egypt.
The 1,0000 year old transcripts were originally found by researchers in 1896 in the city of Oxrhynchus, often called the 'City of the Sharp-Nosed Fish'. Over the next decade, over 500,000 fragments of papyri were uncovered and the collections stands today as largely unstudied. That is why Ancient Lives needs your help to measure fragments and transcribe Ancient Greek characters.
The project is a collaboration between researchers at Oxford University and several other international groups.
---
---