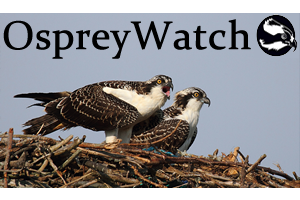 | | |
| --- | --- |
| Rating | (log in to rate this project) |
| Updated | 08/07/2016 |
| Presented by | The Center for Conservation Biology |
| Participation fee | $0 |
| Expenses | $0 |
| Spend the time | outdoors |
| Location | anywhere |
| Appropriate for kids | yes |
| Teaching materials | no |
Required Gear:
A digital camera, binoculars, and a pen and paper are useful to add photos and descriptions. A GPS unit can give a more exact location of nests but is not necessary. A computer with internet access is needed.
OspreyWatch
Documenting trends in global osprey breeding populations.
Monitor osprey nests
Osprey Watch is a project of the Center for Conservation Biology for birdwatchers across the nation to help identify osprey nests and observe osprey behavior. The project hopes to acquire data across a large enough spatial scale in order to address three pressing issues associated with aquatic ecosystems: climate change, depletion of fish stocks, and environmental contaminants. Ospreys are great indicators of the health of aquatic ecosystems as they are sensitive to small changes in fish populations and water quality.
OspreyWatch has almost 500 Osprey Watchers monitoring almost 800 nests across North America, Europe, and Australia. Ospreys are incredible birds of prey and viewing them in the wild can be an amazing experience. And it may be easier than you think. Many osprey nest in man made objects and might even be right outside your backdoor. There are also many nests viewable online through web cameras.
So grab a camera, some binoculars, and locate a nest near you to add photos and descriptions to OspreyWatch's interactive map. You can even find other nests in your area and help monitor and add updates to nesting activity.
---
---