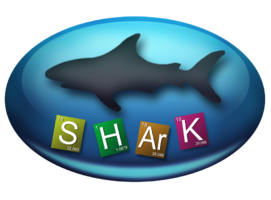 | | |
| --- | --- |
| Rating | (log in to rate this project) |
| Updated | 09/23/2016 |
| Presented by | University of Wyoming |
| Participation fee | $1500 |
| Expenses | $0 |
| Spend the time | indoors |
| Location | anywhere |
| Appropriate for kids | no |
| Teaching materials | yes |
Required Gear:
SHArK Kit
SHArK Project
Discover compounds that can efficiently photoelectrolyze water.
Conduct simple chemistry tests.
Project still under development
The Solar Hydrogen Activity Research Kit (SHArK) Project gives you the tools to discover a storable form of solar energy.
Solar energy is the only option for producing the renewable carbon-free power needed to power the planet. However, because the sun doesn't shine at night, it is critical that we develop a method to store the energy for night. Producing hydrogen from sunlight and water is an ideal solution to the storage problem.
The SHArK Project uses the process of photoelectrolysis, whereby certain metal oxides are used with solar energy to split water into hydrogen and oxygen. Currently, no known stable material is capable of efficiently and inexpensively photoelectrolyzing water with visible light. There are, however, millions of untested compounds that might.
This is where students can take the reigns and contribute to real and meaningful science. The SHArK project provides inexpensive kits that include software, laser pointers, and LEGOs® to allow students a fun and engaging way to explore chemistry and contribute potential solutions to the world's energy problem.
Harness the power of the sun with the SHArK Project!
---
---