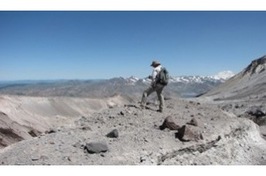 Photo: A.T. Barsotti, USGS
| | |
| --- | --- |
| Participation fee | $0 |
| Expenses | $0 |
| Spend the time | outdoors |
| Location | anywhere |
| Children | yes |
| Primary school | yes |
| Secondary school | yes |
| Teaching materials | no |
Required Gear:
Adventurers and Scientists for Conservation
Adventurers and Scientist for Conservation is a unique initiative that helps create working reationships between scientists and adventure athletes to perform some truly unique research. Projects have been created all over the world and by groups of all kinds. The project even provides training for adventurers to become adventure-scientists.
The exciting benefits from these projects are numerous. Adventurers benefit by contributing to meaningful conservation research in areas that they visit. Additionally, scientists benefit from attaining inexpensive data that would have been previously hard or impossible to acquire. By no means, however are these adventure research projects limited to avid adventurers and professional scientists. Programs can be created anywhere for any age group. The goal of the project is to train and inspire the next generation of citizen scientists. In short, Adventurers and Scientists for Conservation will help you create a project, recruit participants, and start an Adventure Science project near you!
---
---