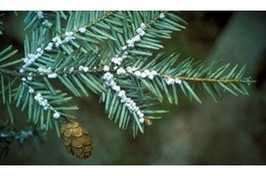 Photo: USFS
| | |
| --- | --- |
| Participation fee | $0 |
| Expenses | $0 |
| Spend the time | outdoors |
| Location | United States |
| Appropriate for kids | yes |
| Teaching materials | no |
Required Gear:
Materials:
- 1 pen or pencil
- A notepad or some paper
- Binoculars (not necessary but they will help)
- A camera to take pictures of your findings
- 1 envelope for submitting your observation form and photos by US mail.
- GPS to determine your location, lat/long. If you don't have a GPS, you can also find your location on Google maps (use the link on our "Participate" page)
- Measuring tape (to measure the diameter of a Fraser fir tree)

Tiny Terrors Project
| | |
| --- | --- |
| | Help scientists restore hemlock and Fraser fir forests. |
| | Monitor invasive insects that attack hemlocks and Fraser firs. |
The Tiny Terrors Project needs volunteers to monitor the invasive insect species of adelgids that attack both hemlocks and Fraser firs (the most popular Christmas Tree in North America).
Although barely visible to the naked eye, adelgids and their effects on trees can be detected by citizen scientists. Tiny Terrors is calling on you to help them identify both healthy and infected trees all across the Eastern United States.
Data collection is easy once you have identified an area that contains hemlock or Fraser fir, and you can submit your observations online.
Not only are both tree species valued for their beauty, but because of their numbers, they provide wildlife habitat and are an important source of lumber. Your help can help researchers find potentially resistant trees and aid in developing genetically resistant trees to restore forests.
The Tiny Terrors Project is based out of the North Carolina State University Forest Entomology Lab and was created for the Alliance for Saving Threatened Trees.
---
---