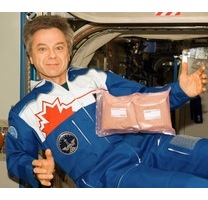 | | |
| --- | --- |
| Rating | (log in to rate this project) |
| Updated | 08/07/2016 |
| Participation fee | $0 |
| Expenses | $5 |
| Spend the time | indoors |
| Location | anywhere |
| Appropriate for kids | yes |
| Teaching materials | yes |
Required Gear:
Details included with registration information.
Tomatosphere
Help scientists study long-term space travel.
Monitor the growth of tomato seeds exposed to space conditions.
Tomatosphere offers students an opportunity to run real scientific experiments and help Canadian scientists study long-term space travel.
Through a comprehensive project curriculum for students in grades 3-10, Tomatosphere aims to inspire students by engaging them in real and meaningful science. Students are charged to monitor and record the germination rate for tomato seeds that have been exposed to specific aspects of the space environment-micro-gravity, low temperatures and pressure, higher levels of radiation- and a control group of untreated seeds. Students germinate the seeds and report their results; in return, they find out how other participants (currently at 17 500 classes) have fared and receive a certificate of appreciation from an astronaut and the principal investigator of the project. Oh, and you are highly encouraged to eat your final product!
The project provides a wealth of teacher and student resources as well as supplemental curriculum to add valuable extensions to student's learning. Registration and data submission is easy through the Tomatosphere website.
---
---