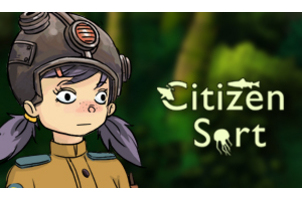 | | |
| --- | --- |
| Rating | (log in to rate this project) |
| Updated | 08/19/2016 |
| Presented by | Syracuse University's School of Information Studies |
| Participation fee | $0 |
| Expenses | $0 |
| Spend the time | indoors |
| Location | online Citizen Sort |
| Appropriate for kids | yes |
| Teaching materials | no |
Required Gear:
Citizen Sort
Help scientists study the natural world
Play sorting and adventure games on your computer
Project locations:
Video games have the potential to do more than entertain. Citizen Sort is taking advantage of this potential by designing video games that make doing science fun.
Citizen Sort is a research project at the School of Information Studies at Syracuse University in New York. Students from Syracuse University drew, colored, programmed and coded three unique citizen science games. They are Forgotten Island, Happy Match, and Living Links.
Happy Match is a twist on the classic matching game. Players will classify photos of animal, plant and insect species that scientists took live in the field. Each round of the game has a different question and players will drag the animal, plant or insect photo into one of the photo answers along the bottom. Scientists wrote the questions in Happy Match based on information they want to know. By classifying the photos, you'll these help scientists as they study the natural world.
Forgotten Island is a point and click adventure game. Players take on the role of a lost adventurer with a secret past. As the player explores the island they meet a suspicious robot spouting orders to re-classify the falling photographs of plant, animal or insect species. The player will also solve puzzles and explore diverse locations from icy peaks to fiery volcanoes.The more classifications a player does, the more money they earn buy items and solve the mystery of Forgotten Island.
Living Links is a fast-paced image classification game between deep learning-based AI and human.
Citizen Sort was partially supported by the US National Science Foundation under grant SOCS 09-68470.
---
---