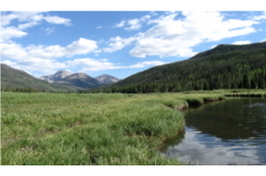 | | |
| --- | --- |
| Rating | (log in to rate this project) |
| Updated | 08/07/2016 |
| Presented by | USU Water Quality Extension |
| Participation fee | $0 |
| Expenses | $0 |
| Spend the time | outdoors |
| Location | |
| Appropriate for kids | yes |
| Teaching materials | yes |
Required Gear:
Volunteers provide their time and passion for the outdoors. UWW provides the training, equipment, and support for volunteers to become citizen scientists monitoring the health of Utah's lakes and streams. Volunteers commit to monitoring a location at least once a month for seven months out of the year or assist watershed coordinators as needed.
Utah Water Watch
Help monitor the quality of Utah's waterways.
Test, monitor, track quality of local waterways.

You can pre-register for this project!
Utah Water Watch (UWW) is a water quality education and data collection program that seeks to increase awareness about the importance of water quality and promote stewardship of Utah's aquatic resources.
UWW is a partnership between USU Water Quality Extension and the Utah Division of Water Quality that creates a way for the public to help in monitoring Utah's lakes and streams. This is a free program for volunteers of all ages to monitor water quality once a month and report the data to water managers.
UWW is a two tier program. Tier 1 collects monthly data for education and base line purposes avaliable to the public and water managers. Tier 2 volunteers have a higher level of training to assist watershed coordinators collect credible data for assessment and monitoring of nonpoint source BMP projects.
---
---