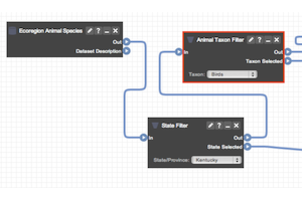 | | |
| --- | --- |
| Rating | (log in to rate this project) |
| Updated | 08/07/2016 |
| Participation fee | $0 |
| Expenses | $0 |
| Spend the time | indoors |
| Location | online |
| Appropriate for kids | no |
| Teaching materials | no |
Required Gear:
A computer with Internet.
Science Pipes
Empowers users to develop new and valuable scientific results.
Access, analyze, and visualize biodiversity data.
Science Pipes is a free service that lets you connect to real biodiversity data, use simple tools to create visualizations and feeds, and embed results on your own website.
SciencePipes allows anyone to access, analyze, and visualize the huge volume of primary biodiversity data currently available online. This site provides access to powerful scientific analyses and workflows through an intuitive, rich web interface based on the visual programming paradigm, similar to Yahoo Pipes. Analyses and visualizations are authored in an open, collaborative environment which allows existing analyses and visualizations to be shared, modified, repurposed, and enhanced.
Behind the scenes, SciencePipes is based on the Kepler scientific workflow software which is used by professional researchers for analysis and modeling. SciencePipes brings that scientific power to new audiences by consolidating the same workflow components used by scientists into pieces that have more intuitive meaning, and by providing components specifically targeted to these audiences.
Because SciencePipes provides tools for original data analyses rather than visualizations of predetermined analyses, it empowers users to develop new and valuable results. Those results can be exposed as dynamic web resources, in web contexts unrelated this site. Finally, because of the generality of the Kepler scientific system upon which this site is built, this online system can be extended to science and engineering disciplines beyond the environmental sciences.
---
---