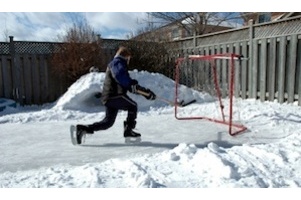 | | |
| --- | --- |
| Rating | (log in to rate this project) |
| Updated | 10/30/2016 |
| Participation fee | $0 |
| Expenses | $0 |
| Spend the time | outdoors |
| Location | online |
| Appropriate for kids | yes |
| Teaching materials | yes |
Required Gear:
A backyard or community outdoor ice rink to monitor is all you need to participate!
RinkWatch
Track climate change through backyard skating rinks.
Pin location of your backyard rink, record days you could skate.
In 2012, scientists in Montreal warned Canadians to expect there will be fewer outdoor skating days in the future.* Their predictions are based on the results of data taken from weather stations across Canada over the last fifty years. In some parts of Canada, they warn there may one day be no more backyard rinks at all. Remember the story of how Wayne Gretzky learned to play hockey on the backyard rink his father made for him in Brantford, Ontario? The scientists' report says some day that will no longer be possible – at least, not in Brantford.
This prompted a group of geographers at Wilfrid Laurier University to create RinkWatch. We want people from coast to coast to coast to tell us about their rinks. We want you to pin the location of your rink on our map, and then each winter record every day that you are able to skate on it. Think of it as your rink diary. We will gather up all the information from all the backyard rinks, and use it to track the changes in our climate. The RinkWatch website will give you regular updates on the results. You will be able to compare the number of skating days at your rink with rinks elsewhere, and find out who is having the best winter for skating this year.
---
---