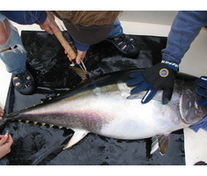 | | |
| --- | --- |
| Rating | (log in to rate this project) |
| Updated | 11/11/2016 |
| Presented by | UMass Boston School for the Environment - Large Pelagics Research Center |
| Participation fee | $0 |
| Expenses | $0 |
| Spend the time | outdoors |
| Location | anywhere |
| Appropriate for kids | yes |
| Teaching materials | no |
Required Gear:
Tag A Tiny
Study annual migration paths of juvenile Atlantic bluefin tuna.
Catch, measure, tag, and release juvenile bluefin with ID tags.

You can pre-register for this project!
Fish for Science! Help the Large Pelagics Research Center improve scientific understanding of large pelagic species by supporting and participating in co-operative research projects.
The Large Pelagics Research Center kicked off the Tag A Tiny program in 2005 to study the annual migration paths and habits of juvenile Atlantic bluefin tuna. With the help of recreational anglers, charter captains, and commercial fishermen and women, we deploy conventional "spaghettit" -ID tags and electronic tags on juvenile and adult tuna in order to understand their behavior and movements.
In the wake of new research findings concerning bluefin spawning grounds in the Atlantic and age of maturity, there has never been a greater need to learn more about the life histories of these fish.
Your help is crucial. So little is known about the movements and behavior of bluefin tuna, particularly juveniles, but every tag deployed brings us one step closer to learning new information that can better inform the fishing community and management agencies alike.
To date, 1,800 juvenile and medium sized bluefin have been tagged with the help of nearly 1,400 recreational fisherman! We need your help to make 2017 our best year yet!
---
---