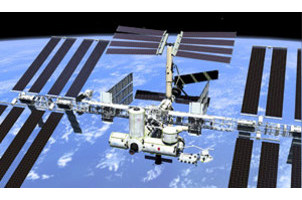 Photo: NASA
| | |
| --- | --- |
| Participation fee | $0 |
| Expenses | $0 |
| Spend the time | indoors |
| Location | anywhere |
| Children | no |
| Primary school | yes |
| Secondary school | yes |
| Teaching materials | no |
| Begin date | 2013-04-11 |
| End date | 2013-12-31 |
Required Gear:
Sample kits
Project MERCCURI! Microbes in Space!
| | |
| --- | --- |
| | Uncover patterns of microbes on Earth and on the Space Station. |
| | Collect microbes from stadiums, cell phones and shoes! |
Project MERCCURI is an investigation of how microbes found in buildings on Earth (in public buildings, stadiums, etc) compare to those on board the biggest building ever built in space – the International Space Station (ISS).
The project provides an opportunity for YOU-- citizen scientists and student scientists --to participate in the research by using kits we will send you to collect microbes from surface areas in buildings or even your own cell phone or shoes. You can form a team or join a team to collect samples through September 2013 with the help of the Science Cheerleaders (current and former NFL and NBA cheerleaders who are also scientists and engineers!).
Your samples will be mailed to the University of California Davis where they will be sequenced and analyzed. Results will be shared on SciStarter so you can compare your samples to those from other locations, including the International Space Station! In addition, up to 40 samples will be selected to fly on the International Space Station where their growth rates will be compared to their counterparts in the UCDavis lab! Wouldn't it be cool if your sample is sent to the International Space Station!?
Teachers: Meet the Project MERCCURI team at the National Science Teachers Association conference in San Antonio on April 11, from 2-3pm! Then, join us at the San Antonio Spurs game on April 12 as we collect microbes from the stadium to send to space!
We collected microbes from a Sacramento Kings and Orlando Magic games and now we invite you to join us at the following events (more will be posted on SciStarter.com/ISS):
April 11: National Science Teachers Association annual conference in San Antonio. From 2-3 pm, Henry B. Gonzalez Convention Center, room 215. If you plan to be there, swing by, say hi, and learn how to get involved in Project MERCCURI to send microbes to space!
April 12: San Antonio Spurs game. Meet us on the court to collect microbes and shoot some baskets! The Spurs are offering discount tickets in addition to providing access to their court! Note: This game is almost sold out so consider purchasing your ticket soon.
April 12: We'll be at Yuri's Night parties celebrating the anniversary of manned space flight...and helping guests collect microbes from their own shoes and cellphones. Meet us at the Museum of Life and Sciences in Durham, NC, the Science Club in Washington, DC, and the California Science Center in L.A.
April 16: We'll be at the National Arts Building in New York City to celebrate Yuri's Night and collect more microbes.
April 20: Philadelphia Science Festival on the Benjamin Franklin Parkway! Stay tuned for more on that!
April 20-21: Calling all programmers! Help hack an app for Project MERCCURI at the NASA Space Apps Challenge in Philly!
If you can't make it to one of these events, have no fear. We're in the process of confirming similar events across the country and WE NEED YOU to help us collect microbes and, if you're interested, analyze the results. We will send periodic updates to you as new events are confirmed. We will also hold contests and other special offers to give you the chance to send your microbes to us from the comfort of your home.
---
---