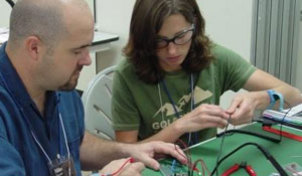 Photo: NASA
| | |
| --- | --- |
| Participation fee | $0 |
| Expenses | $0 |
| Spend the time | indoors |
| Location | anywhere |
| Children | no |
| Primary school | no |
| Secondary school | yes |
| Teaching materials | no |
| Begin date | 2013-03-08 |
| End date | 2013-06-05 |
Required Gear:
The winning entry will use materials which are affordable and simple enough for anyone to reproduce. No expensive, proprietary lab equipment!
Gear will vary depending on the team submission. A winning team might, for example:
- Publish a technique which improves the resolution or replicability of everyone's data
- Describe sample preparation from start to finish in a legible, friendly way
- Improve documentation at the web site to help newcomers get started faster

Spectral Challenge
| | |
| --- | --- |
| | Solve real-world environmental problems. |
| | Improve open source spectroscopy. |
Spectral Challenge is a call to makers, hackers, and Do-It-Yourselfers worldwide to tackle real-world environmental problems with low-cost, open source spectrometry.
What if there were an affordable device you could build yourself, take into your neighborhood and use to test for heavy metals, oil contamination, or other toxics, without needing to have a PhD or access to a lab?
There are two parts to the Spectral Challenge, Stage 1: Collaboration and Stage 2: Real World Use.
Stage 1 will be awarded to the team which publishes techniques and/or documentation which most dramatically improves the process of open source spectroscopy for the whole community. Stage 1 is open now; all entries must be posted on the Public Lab site by May 31, 2013. The winning team will receive $1000 from the prize pool.
The goal of Stage 2 is to use low cost open source spectral analysis to identify an environmental contaminant such as petroleum or heavy metals. Stage 2 will start on June 5, 2013; the winner of Stage 2 will take 80% of the prize pool -- 20% will go to Public Lab to continue organizing and promoting open source science.
Spectral Challenge 2013 is like an X Prize for DIY science, but it's crowdfunded -- this means that if you really believe in the goals of the Challenge, you should back them by donating to the prize pool! You can also help by getting the word out to find pool contributions!
---
---