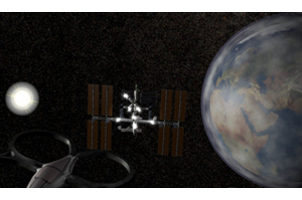 Photo: ESA
| | |
| --- | --- |
| Participation fee | $0 |
| Expenses | $0 |
| Spend the time | indoors |
| Location | online |
| Appropriate for kids | no |
| Teaching materials | yes |
Required Gear:
To play this game, you need the Parrot AR drone: http://ardrone2.parrot.com/usa/.
The game is compatible with iPhone 3GS, iPhone 4, iPhone 4S, iPhone 5, iPod touch (3rd generation), iPod touch (4th generation), iPod touch (5th generation) and iPad. Requires iOS 5.0 or later.
Astro Drone
| | |
| --- | --- |
| | Contribute to future space exploration. |
| | Fly a Parrot AR drone in virtual space, compare with astronauts. |
The Astro Drone game is part of a scientific crowd sourcing project. People who possess a Parrot AR drone can play the game, in which they are challenged to perform different space missions in an augmented reality. Contribute to future space exploration by playing the free Astro Drone game!
The iPhone app is more than a game. Players can choose to contribute to a scientific crowd sourcing experiment that aims to improve autonomous capabilities of space probes, such as landing, obstacle avoidance, and docking. The app processes the images made by the AR drone's camera, extracting abstract mathematical image features. These features can neither be interpreted by humans, nor can the original image be reconstructed. However, the features can be used by robots to learn how to navigate in their environment. Players can join the experiment by going to the high score table. If they agree, the feature data is sent over the Internet.
The first release contains the training level, in which players learn to dock as well as possible to the International Space Station. New levels will be added incrementally with new releases.
AstroDrone is a project performed by the Advanced Concepts Team of the European Space Agency.
---
---