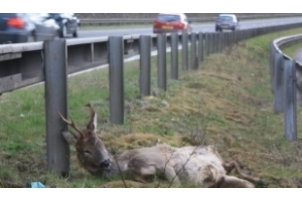 | | |
| --- | --- |
| Rating | (log in to rate this project) |
| Updated | 08/07/2016 |
| Participation fee | $0 |
| Expenses | $0 |
| Spend the time | outdoors |
| Location | anywhere |
| Appropriate for kids | no |
| Teaching materials | no |
Required Gear:
Smart Phone
OhDeer
Map deer road casualties throughout Britain and beyond!
Download free app and start spotting!
Welcome to OhDeer! Helping to map deer road casualties throughout Britain (or beyond!) via your Smart Phone.
The six species of deer living wild in Britain are our largest terrestrial mammals, ranging from the majestic red deer, to smaller fallow, roe, sika, muntjac and Chinese water deer. The large rise over the past 40 years in road traffic volumes as well as numbers and distribution of deer has unfortunately led to deer casualties at roadsides becoming an increasingly common sight. The total number of deer-vehicle collisions in Britain is estimated to exceed 42,000 per year, but most are not actually recorded. Information you log using this citizen-science smart phone app will assist our research on numbers and locations of deer accident hotspots.
---
---