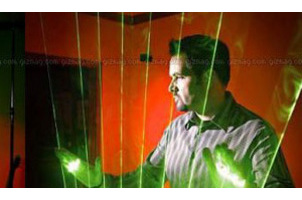 | | |
| --- | --- |
| Rating | (log in to rate this project) |
| Updated | 08/07/2016 |
| Participation fee | $0 |
| Expenses | $19 |
| Spend the time | indoors |
| Location | anywhere |
| Appropriate for kids | no |
| Teaching materials | no |
Required Gear:
Computer, MIDI utility software, software synthesizer, USB-MIDI interface, soldering equipment, insulated wire, wire cutters and strippers, multimeter, alligator leads, saw, drill, vise and clamps. (If you don't already have this equipment, they will add considerably to the price of the project.)
Laser Harp: Build It Yourself
A recent issue of Make magazine (http://makezine.com/15/) was devoted to build-them-yourself, high-tech musical instruments. Among the most impressive is a laser harp invented by tech musician Stephen Hobley.
You coax out the computer-generated sounds by waving your hands to break the light beams and change their lengths.
To build a laser harp, you'll need to be comfortable with such things as MIDI (Musical Instrument Digital Interface) technology, circuit boards, photo cells, voltage regulators, and computers. If you're not a serious amateur music technologist who's been tinkering for years in the garage, you'll need to buy or collect a significant amount of hardware and software.
Stephen's article in Make does include a simpler project—a single-beam "laser theremin," as opposed to the six-beam laser harp. But even that's a pretty complex gizmo. (Note: We received an email from Geoffrey Rose notifying us that he invented the Laser Harp.)
Related Material: To see and hear Stephen playing his harp, go to http://www.youtube.com/watch?v=hCgMsrSaYwY&feature=player_embedded. Build a Laser Harp, Make Music With Light (Science Cheerleader): http://www.sciencecheerleader.com/2008/10/build_a_laser_harp_make_music_with_light/
---
---