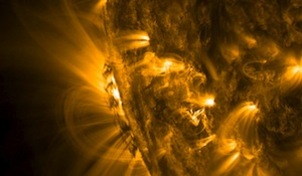 Photo: © NASA SDO
| | |
| --- | --- |
| Participation fee | $0 |
| Expenses | $0 |
| Spend the time | indoors |
| Location | online |
| Children | no |
| Primary school | no |
| Secondary school | yes |
| Teaching materials | yes |
Required Gear:
The Sun Lab
| | |
| --- | --- |
| | Help scientists predict solar storms. |
| | Access data, images and tools to help predict solar storms. |
Despite its apparently steady glow, the Sun is a churning mass of superhot plasma that regularly produces powerful flares and storms that can knock out power and communication systems here on Earth. With this Lab explore what makes the Sun so volatile and get access to the same data, images, and tools that scientists use to predict solar storms—so that you can predict them for yourself.
---
---