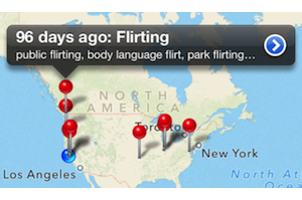 | | |
| --- | --- |
| Rating | (log in to rate this project) |
| Updated | 08/07/2016 |
| Presented by | The Kinsey Institute |
| Participation fee | $0 |
| Expenses | $0 |
| Spend the time | outdoors |
| Location | anywhere |
| Appropriate for kids | no |
| Teaching materials | no |
Required Gear:
iOS or Android smartphone or tablet
Kinsey Reporter
Exploring ways to study behavior while protecting identities.
Upload, explore, and visualize anonymous data about sex.
Kinsey Reporter is a global mobile survey platform to share, explore, and visualize anonymous data about sex.
Reports are submitted via smartphone, then explored at http://KinseyReporter.org or downloaded for off-line analysis.
The Kinsey Institute is exploring new ways to record and describe people's sexual experiences worldwide. We are also exploring new ways for people to be connected while protecting their privacy. We hope to reach people with all kinds of different ideas, beliefs, and experiences, and who might be willing to report on sexual behaviors, regardless of who is involved and where it is observed. By using Kinsey Reporter, you contribute to research on human sexual behavior. We ask you to act ethically, in the role of a good journalist or "citizen scientist." Submit what is true and accurate to the best of your ability.
Ideally, you would submit a report within 24 hours of the event you are reporting. The report can be about yourself or someone else. It is all anonymous. Kinsey Reporter includes surveys about various sexual activities and other intimate behaviors. These surveys cover sexual behaviors and events, sexual health issues, violence reports, public displays of affection, and other unique behaviors and experience. A 'survey' in this case is a report of information shared by many individuals on a topic of interest; it is not based on a random or representative sample of a community or population.
To ensure that reported data is strictly anonymous, you can only select among the provided tags when answering a question. However, contact us to suggest new surveys, questions, or tags.
To protect the anonymity of the reports even in sparsely populated areas, we aggregate reports over time. A report is not published until a sufficient number of reports have been received from the same location, and then all of those reports are recorded with a randomized timestamp. The more sparsely populated your area and/or the higher the geographic resolution you select, the longer the delay until your report appears. Therefore, in a sparsely populated area, you might want to select a lower resolution (e.g., state/region or country), to minimize the delay until your report becomes public.
Interactive visualizations of the data are available on the KinseyReporter.org website. The anonymous data we collect is also publicly available to the community via an Application Programming Interface (API), documented on the KinseyReporter.org website. We welcome your feedback.
Kinsey Reporter is a joint project of the world-famous Kinsey Institute for Research in Sex, Gender, and Reproduction (KI) and the Center for Complex Networks and Systems Research (CNetS), both at Indiana University, Bloomington.
---
---