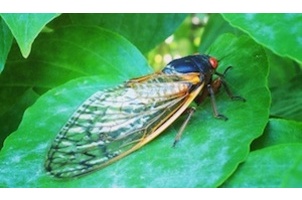 | | |
| --- | --- |
| Rating | (log in to rate this project) |
| Updated | 08/11/2016 |
| Participation fee | $0 |
| Expenses | $0 |
| Spend the time | outdoors |
| Location | IA, IL, MO |
| Appropriate for kids | yes |
| Teaching materials | no |
Required Gear:
Just a small container for collecting cicadas
Urban Buzz: Cicadas!
Help gauge possible negative effects of urbanization on cicadas.
Collect and send us 5-10 dead cicadas in good condition.
Periodical cicada (Magicicada spp.) populations are vulnerable to the ways we change the land around us. They live in the dirt. They suck on plant roots. They are born one year and then 17 years later rise to often find a landscape quite different from the one their parents experienced. When forests (and with them, tree roots) disappear completely, periodical cicadas never emerge at all, but in many cases forests do not disappear entirely, they just change. With urbanization, they become hotter, more polluted, and, more afflicted by herbivores other than the cicadas. What do these changes do to 17-year cicadas? We don't really know.
One particular aspect of the cicadas that is likely influenced by urbanization is how crooked they are – that is, how much the length, width and shape of parts on the right and left side of the cicada body, respectively, differ from one another. Scientists have given a fancy name to these small, random deviations from perfect symmetry; they call it fluctuating asymmetry (FA).
Fluctuating asymmetry has been used as a low cost way to monitor the effects of environmental stressors like pesticides and water pollution on terrestrial and aquatic insects. We (at Your Wild Life) think it might be a quick-and-dirty way to gauge the negative effects of urbanization on periodical cicadas – We predict that cicadas experiencing more intense levels of urbanization (as measured by the amount of forest cover or concrete and blacktop in an area) will be more crooked.
And so we need your help!
---
---