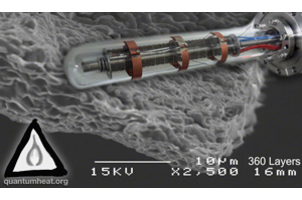 Photo: MFMP
| | |
| --- | --- |
| Participation fee | $0 |
| Expenses | $0 |
| Spend the time | indoors |
| Location | online |
| Children | no |
| Primary school | no |
| Secondary school | yes |
| Teaching materials | yes |
Required Gear:
Computer, tablet or smartphone.
The New Fire
There is mounting scientific evidence from the likes of NASA, the US Naval Research Laboratories, Italian National Energy Research, Mitsubishi Industrial and Toyota that point to an incredible, clean energy future for the world. The effect goes by many names. We simply call it the "New Fire" because, if validated, it has the potential to replace most of the combustion energy sources in our world today.
It is a broad spectrum activity involving Material science, chemistry, electronics, physics, engineering software design etc. So there is something for everyone!
The technology relies on taking specially engineered Nickel nano structures on wire, foam or particles along with other elements and compounds and loading the metal crystal lattices with mono atomic Hydrogen creating an environment that does not materially occur naturally in the natural universe. The combination is then stimulated or shocked in some way to make the constituents interact, so releasing net thermal gain.
We have been working hard to establish a suitable lab experiment that repeatably shows the effect so that it can be further studied and enhanced.
We ultimately aim to produce an open source reactor technology that produces no harmful emissions, residue waste or radiation with energy densities potentially 3 orders of magnitude higher than gas/petrol according to reports of NASA and other prominent participants in this field.
You will be getting involved in what amounts to the New Manhattan project for the socially connected digital age, only this time its aim is to free humanity from the bond of energy rationing.
---
---